Welcome to the Gozan Maru wreck dive site, located in the Urukthapel Anchorage, southeast of Koror in Palau. As a wreck diving expert, let me guide you through this fascinating dive site that will surely be an unforgettable experience.
The Gozan Maru is a medium-sized naval transport that was converted into an aircraft transport in 1940. She was bombed and sank during operation DESECRATE ONE in March 1944, and now lays bow down on her port side. The ship is not totally over on her port beam, and the tall masts extend to within 26 feet (8 meters) of the surface.
To reach this dive site, you will need to take a 15-minute speedboat ride from Koror. The distance from Koror is 7 miles (11.3 kilometers). The Gozan Maru wreck dive is recommended for intermediate to advanced divers with a mandatory wreck diver certification if penetrating the wreck. Careful monitoring of bottom time and air consumption is essential.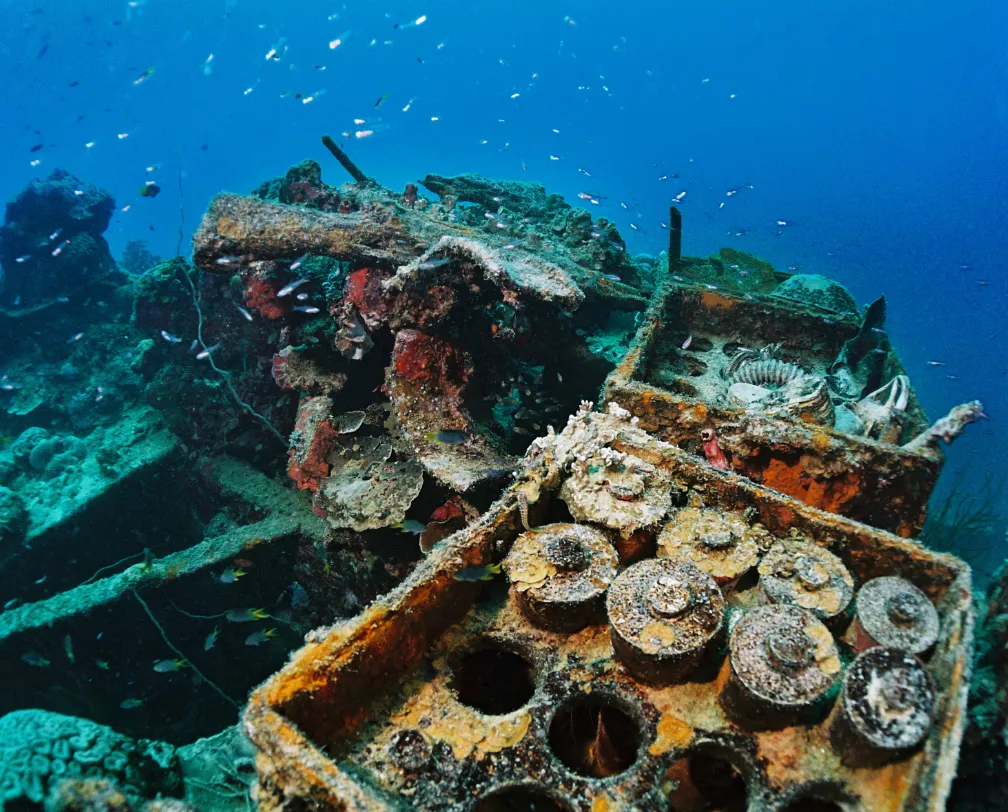 The diving depth summary is as follows: the bow is at 110 feet (33 meters); the stern at 85 feet (25 meters); and the top of the starboard deck is at 60 feet (18 meters). Despite the sheltered location, the visibility is usually fair, ranging from 15 to 45 meters (5 to 15 meters). However, there are no currents to worry about.
The Gozan Maru wreck is located on a silt/mud bottom reef formation. Diverse marine growth of black corals, hard corals, anemones, and oysters can be found throughout the bow and bridge areas. The cargo holds are all empty but worth exploring, and they offer plenty of ambient light for photographic opportunities.
It is fascinating to note that there has been considerable debate about the identity of this ship. Originally mistaken for the Hokutai Maru, measurements and other identifying structures of the ship rule out that she is the Hokutai Maru. However, they do not confirm her to be the Gozan Maru officially. Until such time as she is identified, she will be called the Gozan Maru.
In conclusion, the Gozan Maru wreck dive site offers a unique and exciting diving experience for intermediate to advanced divers with a passion for exploring shipwrecks. Don't miss out on the opportunity to discover this historic and intriguing dive site in Palau.