Where Adventure & Luxury Meet
Ocean Hunter
Where Adventure & Luxury Meet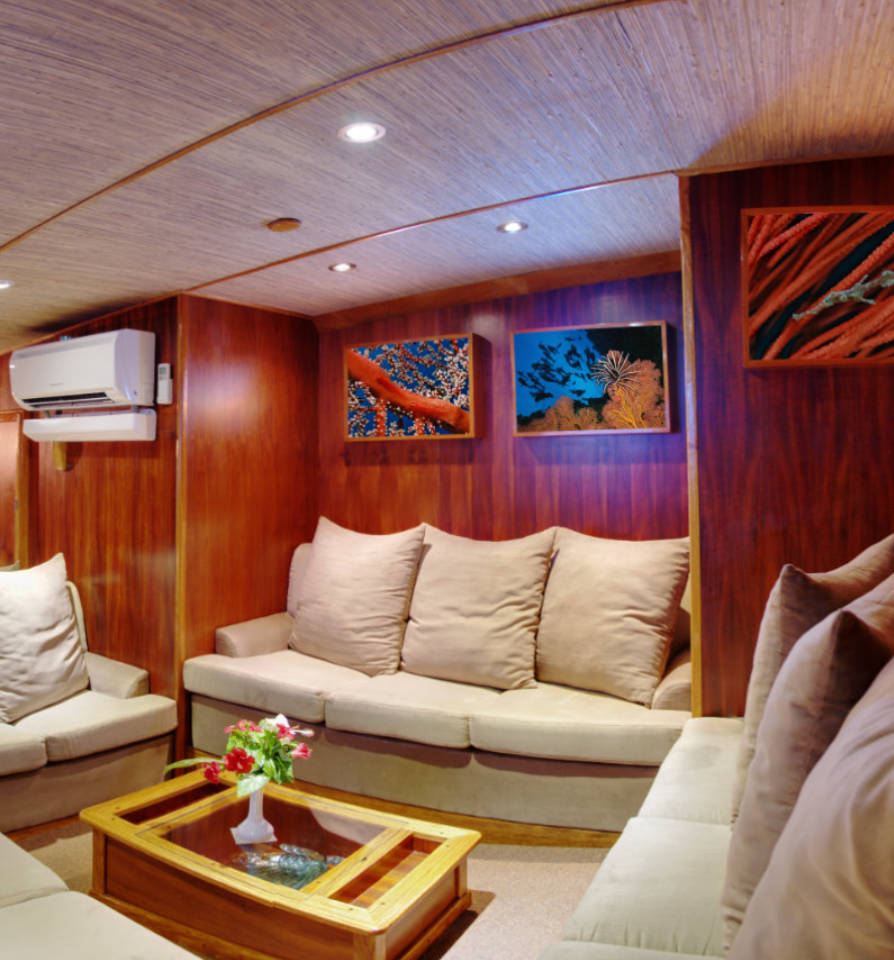 Ocean Hunter is a high-end liveaboard that offers world-class diving experiences, upscale cuisine, and comfortable accommodations for its guests. The ship has 8 guest cabins, including Standard, Deluxe, and Master Staterooms. The upper deck has a sun deck with two Jacuzzis and garden furniture for relaxation. The salon offers a 48" wall-mounted flatscreen TV, a computer station, a library, and board games for guests to relax after a dive. The galley provides fresh gourmet food with an industrial refrigerator and freezer, while the dining room has comfortable seating and a 32" plasma TV. The dive deck is spacious and efficient with individual storage bins, ample room for Nitrox and air tanks up to 100 cubic feet, and a filling station for gas mixing. The wheelhouse is equipped with 3 GPS systems, gyro compass, and autopilot, among other safety features. The Master Staterooms are designed to Mega Yacht standards and feature a large living space, extra-large double bed, private TV, DVD, and mini bar, with a spacious bathroom and ample storage space. The sun deck is perfect for relaxation with ample loungers, chairs, and tables, along with two heated Jacuzzis.
Check-in & Check-out
Check-in Time at the Palau Pacific Resort is 14:00 Hours/02:00 PM. Check-out Time at the Palau Pacific Resort is 08:00 AM.
Cancelation & Credit Cards
Payment Terms: 34% deposit within 14 days once a booking is confirmed. 33% (2nd payment) 6 months prior to the scheduled trip. 33% final payment should be made 90 days prior to the trip. Cancelation: Upon receipt of written cancellation the following cancellation policies apply - written cancellations received 366 days or more before arrival date - no fee applies; 360-181 days prior to arrival date a cancelation fee of 33% equal of deposit applies; 180-91days prior to arrival date, all deposits/payments non-refundable; 90-0 days prior to arrival, 100% of total amount due as cancelation fee. Cabins: Standard cabins # 2,5; Deluxe cabins # 3,4,6,9; Master cabins # 7,8
Ocean Hunter Palau and Fish 'n Fins accept VISA and MASTER CARD.
Amenities of Ocean Hunter Palau
Eat • Dive • Sleep
Air Conditioning
Breakfast, Lunch, Dinner Buffet
Housekeeping
Nitrox Available
TechDiving Support
Bathrobe & Fluffy Towels
Hair Dryer
Free Drinking Water
Free Espresso & Snacks
Towel Warmer
Large Camera Tables
110V and 220V
38' Chase Boat
Valet Gear Service
DIN and INT Valves
Expert Dive Staff
Ocean Hunter Cabins
Palau's Most Luxurious Liveaboard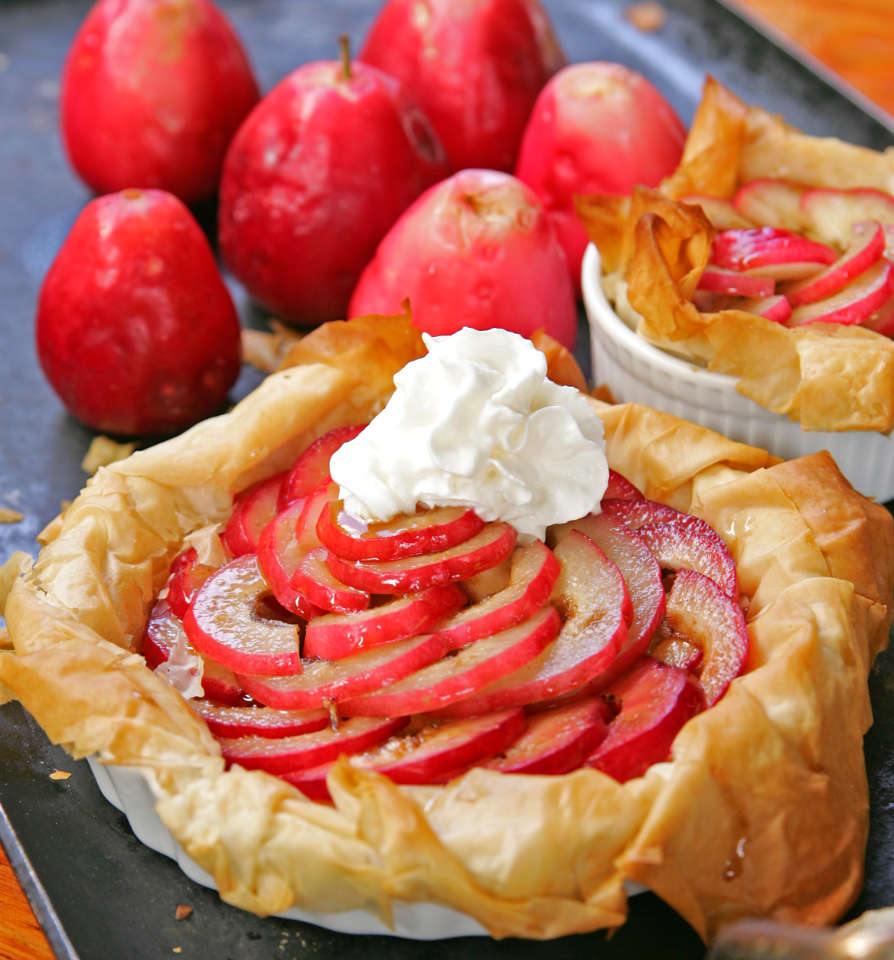 Ocean Hunter Cuisine
Excellent Liveaboard Cuisine
Welcome to Ocean Hunter Live Aboard, the ultimate luxury experience in Palau for scuba diving enthusiasts! Ocean Hunter liveaboard is not only famous for its lovely cabins, expert staff, and world-class scuba diving, but also for its exceptional cuisine.
Its chefs take great pride in offering a diverse and delicious menu, catering to all dietary restrictions and preferences. Ocean Hunter's experienced and talented chefs source only the freshest local ingredients and carefully prepare each dish to perfection. From savory seafood dishes to mouth-watering vegetarian options, there is something for everyone on the menu.
Ocean Hunter's commitment to quality and attention to detail set us apart from our competitors. People at Ocean Hunter understand the importance of good food to fuel your body and enhance your overall experience on board. That's why they go above and beyond to provide an exceptional dining experience for their guests.
At Ocean Hunter, the staff believe that every aspect of your vacation should be extraordinary, including the food. Join Ocean Hunter for an unforgettable liveaboard experience and indulge in its gourmet cuisine. We promise it will be a highlight of your trip!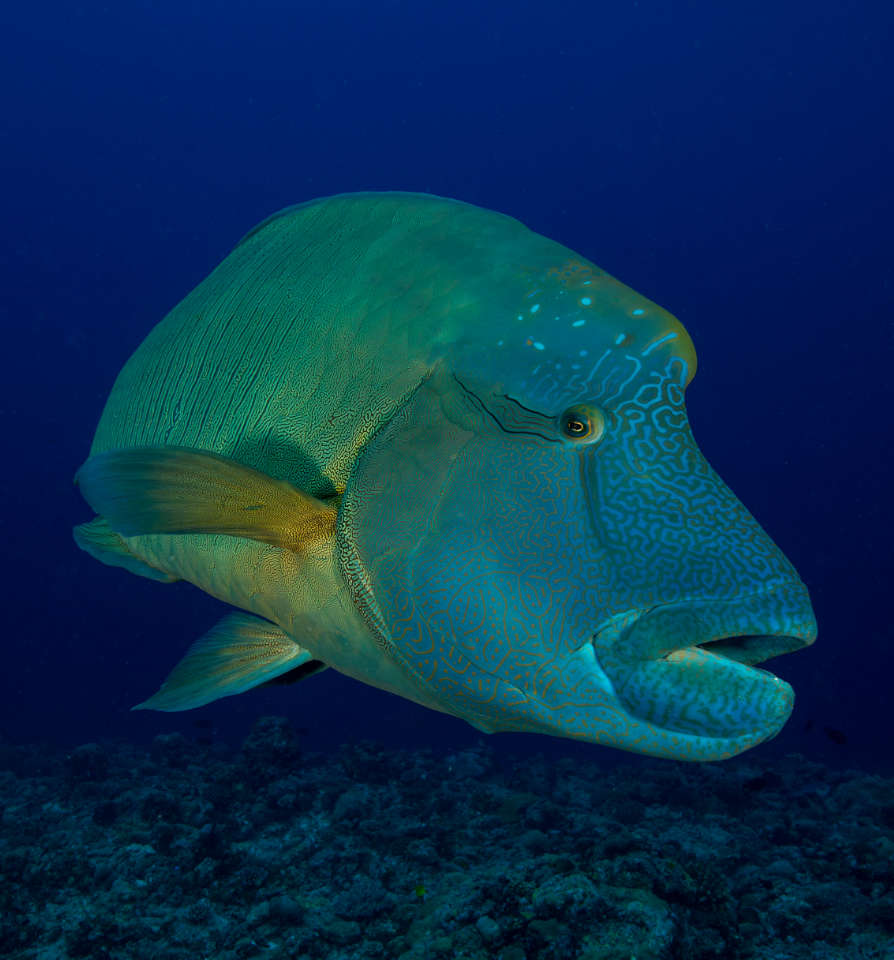 Diving Aboard Ocean Hunter Palau
World-Class Liveaboard Diving
Ocean Hunter offers a truly exceptional liveaboard diving experience that is sure to impress even the most discerning diver. With up to five dives per day, guests have the opportunity to explore a variety of dive sites, from spawning dives to stunning manta ray encounters, colorful wall dives, cave diving, and shark diving.
But the Ocean Hunter experience is not just about the diving. Guests are treated to an indulgent culinary experience that is simply unmatched. The liveaboard cuisine is prepared with the freshest ingredients and expertly crafted to satisfy even the most discerning palate. With every meal, guests are treated to a true gourmet experience, featuring a variety of international and local flavors.
As if the diving and cuisine weren't enough, Ocean Hunter also offers top-notch accommodations and amenities. The liveaboard is equipped with a chase boat for diving, and the dive sites are only minutes away, making for a comfortable and convenient diving vacation.
For the ultimate indulgent DIVE - EAT - SLEEP - REPEAT experience, Ocean Hunter is the clear choice. Book your stay now and enjoy a luxurious and unforgettable diving vacation.
7 Days, 10 Days and 12 Days Trips - Check Availability