Welcome to Fish 'n Fins, Palau's premier dive shop. Today, we're excited to take you on a thrilling adventure to explore the Kibi Maru wreck. Located just 4 miles (6 km) from Koror, this Japanese cargo ship is an excellent dive site for intermediate to advanced divers.
As we make our way to the Kibi Maru wreck, we'll be traveling by speedboat for about 20 minutes. Once we arrive, we'll descend to the deck, which is at a depth of 60-80 feet (20-27 m). From there, we'll make our way down to the bottom of the wreck, which sits at 115 feet (37 m) below the surface.
While diving the Kibi Maru wreck, you can expect varying visibility depending on the tides. During high tide, visibility can range from 5-30 feet (1.5-10 m), while low tide can result in poor visibility. The current also depends on the tides, with strong currents during in-coming and out-going tides.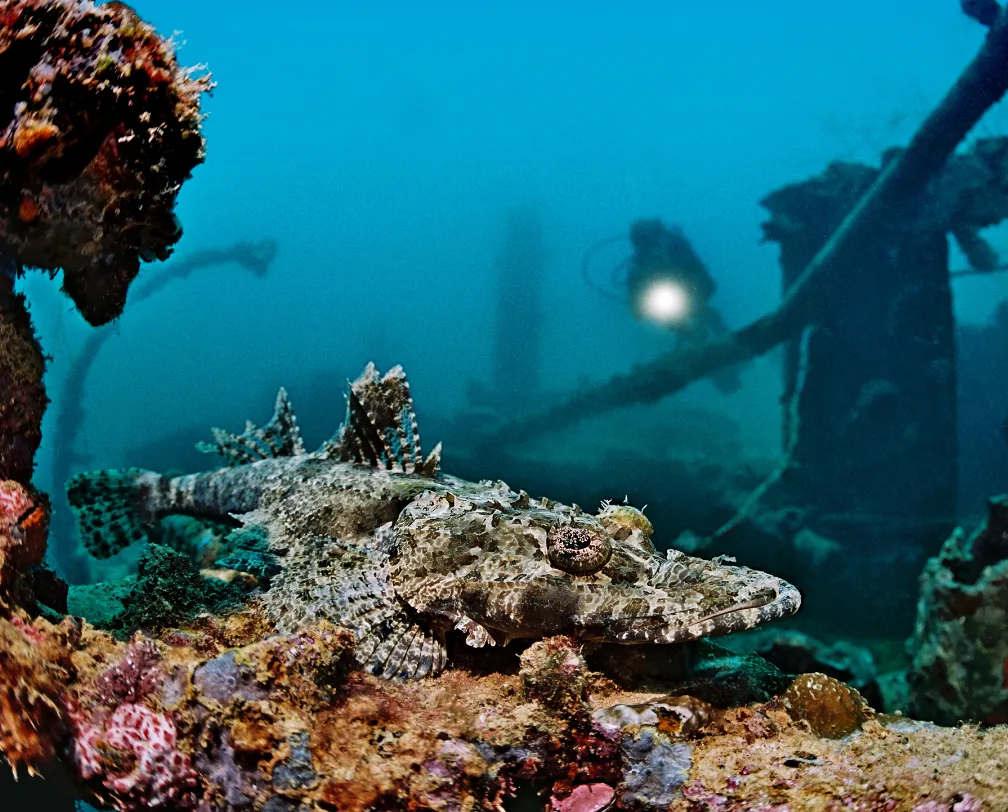 The Kibi Maru wreck is positioned almost on starboard and has several torpedo damages to hold 1 and hold 4, as well as post-war salvaging. Despite the damage, the wreck still provides a unique and exciting diving experience for adventurous divers.
With a weight of 3000 tons, the Kibi Maru wreck is a massive structure to explore. As you navigate the wreck, you'll encounter various marine life, including schools of fish, moray eels, and maybe even a turtle or two.
At Fish 'n Fins, we take your safety seriously, and our experienced guides will be with you every step of the way as you explore the Kibi Maru wreck. Whether you're a seasoned diver or looking for a new adventure, the Kibi Maru wreck is sure to impress.
Thank you for choosing Fish 'n Fins for your diving adventure in Palau. We can't wait to take you on an unforgettable journey to explore the Kibi Maru wreck.