Our Diving Center
In today's constantly evolving travel industry, staying ahead of the curve is critical to ensuring business success. For Fish 'n Fins, a commitment to meeting guest demands and embracing innovation is at the core of our philosophy. As the world becomes increasingly digital, this approach has proven to be particularly important, as travelers expect to have access to the latest technology and amenities. With a keen eye towards the future, we have positioned ourselves as leaders in the industry, consistently exploring new ways to enhance the guest experience and remain at the forefront of this exciting and dynamic field.
As we always strive to improve our products and services, we decided in March 2018 to leave our location in M-Dock, where we have operated Fish'n Fins diving center since 1993, and move to a new and better location.
Our new shop is in Malakal, in a small bay directly on one of the Rock Islands. We even feature a small WWII wreck on our house reef, a barge. We hollowed out an existing building and completely redesigned everything from scratch - Navot contributed the design, which nicely accentuates the diving and ship character of our operations.
In our main building we house our boutique, where you'll get souvenirs and diving equipment, our reception, which is the starting point for all your wishes and questions, offices for bookkeeping and reservations, as well as a PADI course classroom. Last but not least we house our rental equipment in a room with a large window to the outside right next to the reception - our employees will give you weights and rental equipment from there, if necessary.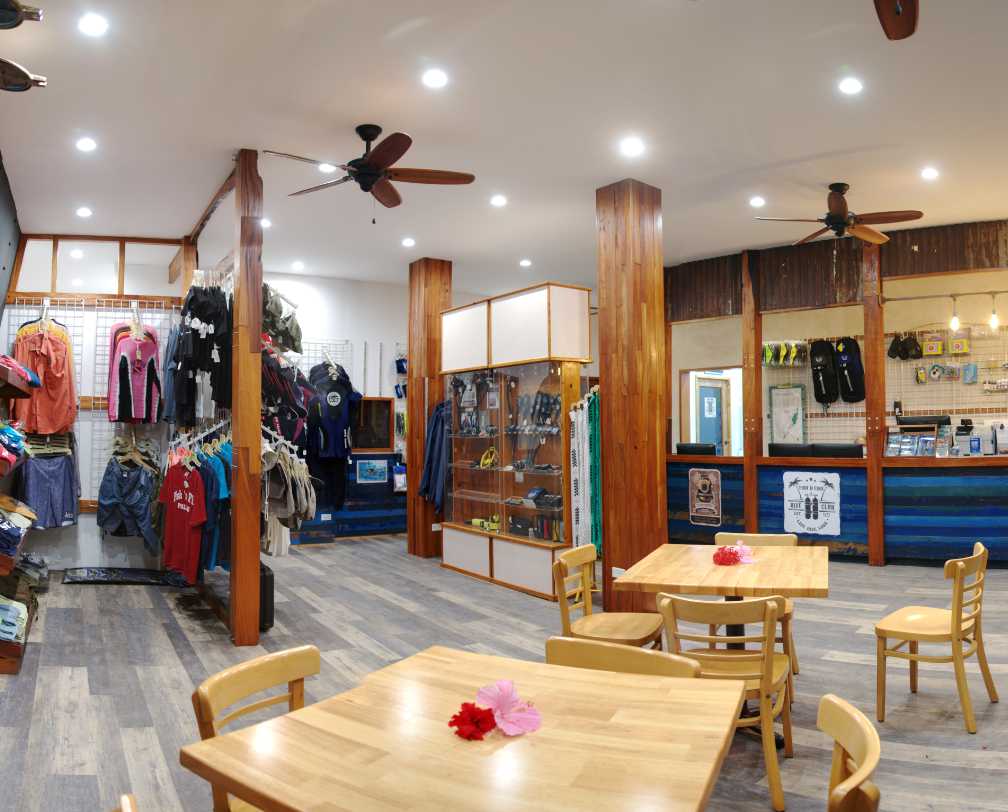 From the main building you will pass our drying room, where you can dry and store your diving equipment for as long as you are with us and our BAR-RACUDA restaurant to the Fish'n Fins docks. Our facility enables us to have 6 boats ready to board at the same time - 4 boats on our main dock and 2 on our side dock. The docks are wide and stable and offer enough space for all divers and their equipment.
From here you can also explore our house reef - say "hello" to our giant mandarin fish "Gozilla" and watch a number of juvenile fish go about their daily activities. Our house reef dives are free - just let us know in the office, grab a bottle and safety buoy and you're ready to go.
We have 11 boats in use • four boats with a length of 8.84 meters and twin 140 HP engines • a boat with a length of 11.58 meters and twin 225 HP engines • five boats with a length of 10.67 meters and twin 225 HP engines • a boat with 9.75 Meters long, with twin 175 HP engines.
All our boats are equipped with forward facing seats and dry boxes. Stable roofs provide protection from sun and rain. Our scuba tanks are safely stowed in stable tank holders. Our team of engineers services our boats on a daily basis. We are very proud of the fact that we have never in 25 years canceled a single day of diving due to technical problems - we deliver reliability for your diving holiday.

Our compressor park is located in a small house behind the main building. Here we have several large compressors, a Nitrox membrane system and a technical partial pressure filling system. In order to save time and resources, we use 28 large storage tanks for air and 32% nitrox, which we hand out to our guests in the 12 liter bottle free of charge.
We have 700 tanks, for rebreathers, sling tanks, double tanks, 10 liters, 12 liters and 15 liters. We offer DIN and INT valves, as well as tanks with manifolds for tech divers. We offer also oxygen-clean tanks for technical diving. We don't hold a supply of scrubber for rebreathers - if you bring your rebreather, please let us know, so we can order the material in time.

ONE-STOP-SHOP for your Dream Vacation
Fish 'n Fins Palau is the premier dive shop, PADI IDC center, adventure tour operator, and one-stop-shop for all your travel needs in Palau. Offering a range of services, including hotel and dive packages, cultural and adventure island tours, and PADI courses from beginner to instructor levels, Fish 'n Fins Palau is a go-to destination for tourists seeking a memorable and fulfilling vacation experience.
Fish 'n Fins Palau offers a diverse range of services that cater to the needs and interests of tourists of all types. With six of the best hotels and resorts in Palau, the company provides an array of hotel and dive packages that suit different budgets and preferences. The packages include accommodation, meals, transportation, and diving activities, ensuring a stress-free and enjoyable vacation experience.
Best Price Dive Packages

In addition to hotel and dive packages, Fish 'n Fins Palau offers cultural and adventure island tours that allow tourists to explore the natural beauty and rich culture of Palau. From exploring the Rock Islands, kayaking through the mangroves, visiting historical sites, and experiencing the unique traditional Palauan culture, the tours provide a once-in-a-lifetime experience for visitors.
Culture & Adventure

Fish 'n Fins Palau also offers PADI courses for diving enthusiasts, from beginner to instructor levels. The courses are taught by experienced instructors who provide personalized instruction, ensuring that students have a safe and rewarding diving experience. With an online booking system, Fish 'n Fins Palau makes it easy for tourists to book their desired packages and courses, providing a seamless and convenient booking experience.
PADI Courses

In conclusion Fish 'n Fins Palau is a well-established and reputable company that provides excellent services to tourists seeking an unforgettable vacation experience in Palau. The company's dedication to providing high-quality services, personalized instruction, and attention to detail has earned it a loyal customer base and a positive reputation in the tourism industry. If you're planning a trip to Palau, Fish 'n Fins Palau is your one-stop-shop for a dream vacation.
The Tale of Fish'n Fins and Its Trailblazing Founders
Do you love diving, adventure, and experiencing new cultures? Then you're in for a treat! Get ready to dive into the exciting story of Fish'n Fins, a PADI 5-star IDC diving center located in the pristine waters of Palau.
Navot and Tova, a marine architect and mechanical engineer, and a chef with a passion for fine dining, respectively, are the heart and soul behind Fish'n Fins. After a four and a half-year journey sailing the world's oceans in the 1980s, they were captivated by the beauty and culture of Palau. They decided to return to these stunning islands, making it their permanent home in 1993.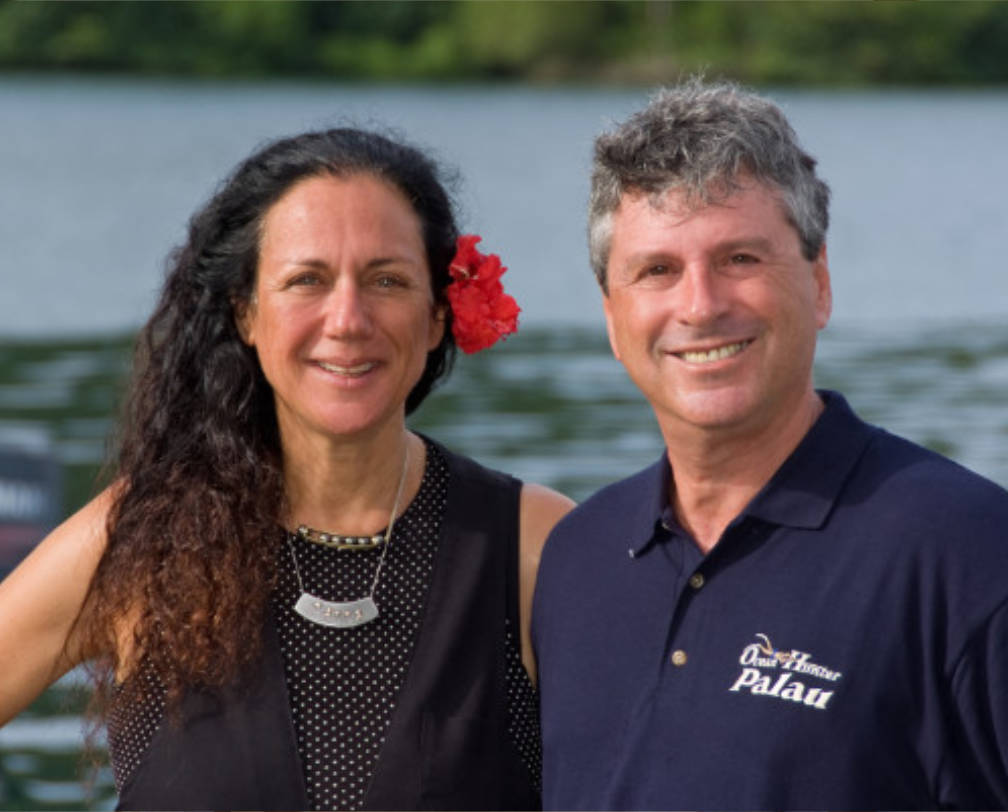 Their love of diving and desire to share it with others led them to take over the existing Fish'n Fins diving center in 1998, expanding it into the top-notch operation it is today. With a commitment to excellence, they relocated the center to a new location in 2018, offering their guests the best possible conditions and comfort.
But Navot and Tova's love for Palau goes beyond just running a successful diving center. They are active members of the community, contributing their skills and services to various projects, including research expeditions, conservation efforts, and even appearing in films such as Skin Diver, National Geographic, Discovery Channel, and BBC.
And as if that wasn't enough, in 2000, they founded the Micronesian Shark Foundation, dedicated to collecting research data and raising awareness of shark protection in Micronesia. Every year, they host the highly anticipated "SHARK WEEK PALAU", drawing in crowds from all over the world.
But their greatest accomplishment to date is Navot's discovery of the USS Perry, a WWII US shipwreck in Palau, solidifying Fish'n Fins as pioneers in Palauan waters.
So, what are you waiting for? Grab your diving gear and join Navot and Tova on an underwater adventure of a lifetime at Fish'n Fins. You won't regret it!