Discover the Wonders of Shark Week 2024 at Fish 'n Fins Palau - Longer and More Spectacular Than Ever!
Immerse yourself in the breathtaking underwater world during our extended 22nd Annual Shark Week, featuring options for 5 or 7 days of diving and extraordinary marine encounters.
Fish 'n Fins Palau, the premier dive shop and provider of Hotel & Dive Packages, is excited to announce an extraordinary opportunity for divers and marine enthusiasts during our 22nd Annual Shark Week. From March 15th to 23rd, 2024, we are extending Shark Week to offer a once-in-a-lifetime experience featuring options for 5 or 7 days of diving, providing you with more opportunities to witness the astonishing marine life that Palau has to offer.
Witness Unique Marine Events During Shark Week 2024
Shark Week 2024 will be an unforgettable experience due to its unique alignment with two spectacular marine events.
Shark Week Palau 2024 - March 15-23, 2024
2024, Shark Week attendees can expect:
1. Moorish Idol Aggregation and Spawning (March 17th): During the 2023 Moorish Idol spawning, hundreds of sharks were observed swimming alongside the Moorish Idols, creating a breathtaking spectacle. This extraordinary event caught the attention of the BBC, which sent a camera team to document the stunning gathering. We are eager to share this mesmerizing experience with our customers during Shark Week 2024.
2. Full Moon Snapper Spawning (March 22nd): The full moon in March brings another amazing underwater event – the Snapper spawning. This phenomenon attracts a diverse array of marine life, including more sharks, offering a thrilling encounter for divers.
Flexible Dive Programs Tailored to Your Needs
Fish 'n Fins Palau understands the diverse preferences of our customers, which is why we are offering both 5-day and 7-day diving programs during Shark Week 2024. The extended event will begin with arrival day on March 15th, followed by dive days from March 16th to 22nd, and departure day on March 23rd. Whether you opt for the 5-day or 7-day diving program, you will be treated to an unforgettable underwater adventure.
Why You Should Choose Fish 'n Fins Palau for Shark Week 2024?
Fish 'n Fins Palau is dedicated to providing divers and ocean enthusiasts with unparalleled experiences. By participating in Shark Week 2024, you will benefit from:
- A unique opportunity to witness rarely seen marine events
- Expert guidance and support from our experienced dive team
- Customizable dive programs to suit your preferences and schedule
- Comfortable accommodations and excellent service through our Hotel & Dive Packages
Don't miss out on the magic of Shark Week 2024 with Fish 'n Fins Palau. Book your spot now and prepare to be captivated by the incredible wonders of the deep blue sea. We look forward to creating unforgettable memories with you during this extraordinary event.
Happy Diving! - The Fish 'n Fins Palau Team
Shark Week Palau
Shark Week Palau - A Journey Through History and Dedication to Shark Protection and Research
Sharks have always been a topic of fascination and fear for humans, but in recent years, their conservation and protection has become more important than ever. To advocate shark protection and research, Tova Harel Bornovski, Navot Bornovski, and Capt. Kenneth Johnny established the Micronesian Shark Foundation in 2002. The goal was to facilitate the study of sharks in Micronesian waters, particularly in Palau, and to further shark protection in Micronesia and other countries. The Foundation was supported by the Government of Palau and its lead role in conservation management and environmental protection. The main contributor to the Foundation has been Palau's premium dive operator, Fish 'n Fins. They have supported the Foundation by contributing boats, fuel, equipment, staff, and logistic support. Fish 'n Fins is a role model in environmental protection and local community activities. In its dedication to science and shark protection, the Micronesian Shark Foundation teamed up with The National Geographic Society, the Australian Institute of Marine Science (AIMS), and Stanford University.
Palau's exceptional conservation efforts, which led to the declaration of Palau as a Shark Sanctuary in 2009, make it an ideal location for collecting data. The ocean is rich with fish and healthy corals, and the data collected not only has relevance for Palau and Micronesia, but also for the whole globe and conservation specialists and scientists worldwide.
Citizen Science
Citizen Science is the gathering and examination of information about the natural world by members of the public, usually in collaboration with qualified scientists. As part of Shark Week, guests are invited to help collect data during five dive days. This data will be processed and shared with the scientific team after Shark Week. The first day of Shark Week Palau is dedicated to introducing guests to the Citizen Science approach.
Dedication to Education
Citizen Science is just one part of the equation. The other part is the distribution of "shark study materials" for children between 11 and 12 years of age. These materials, especially designed by the Micronesian Shark Foundation, are intended to inspire kids to learn more about sharks and educate their families about the importance of shark conservation. The Foundation visits schools in Palau and other parts of Micronesia each year to distribute these materials.
Shark Week Palau - the Event
Shark Week Palau takes place from
March 15-23, 2024,
at Fish 'n Fins in Malakal, Palau. The event starts with an opening ceremony and the distribution of Shark Week t-shirts. Participants will dive daily at Palau's best shark sites and meet after for seminars and meetings with local and international conservation experts. The event is concluded with a gala dinner, the annual Shark Week video, and presentations.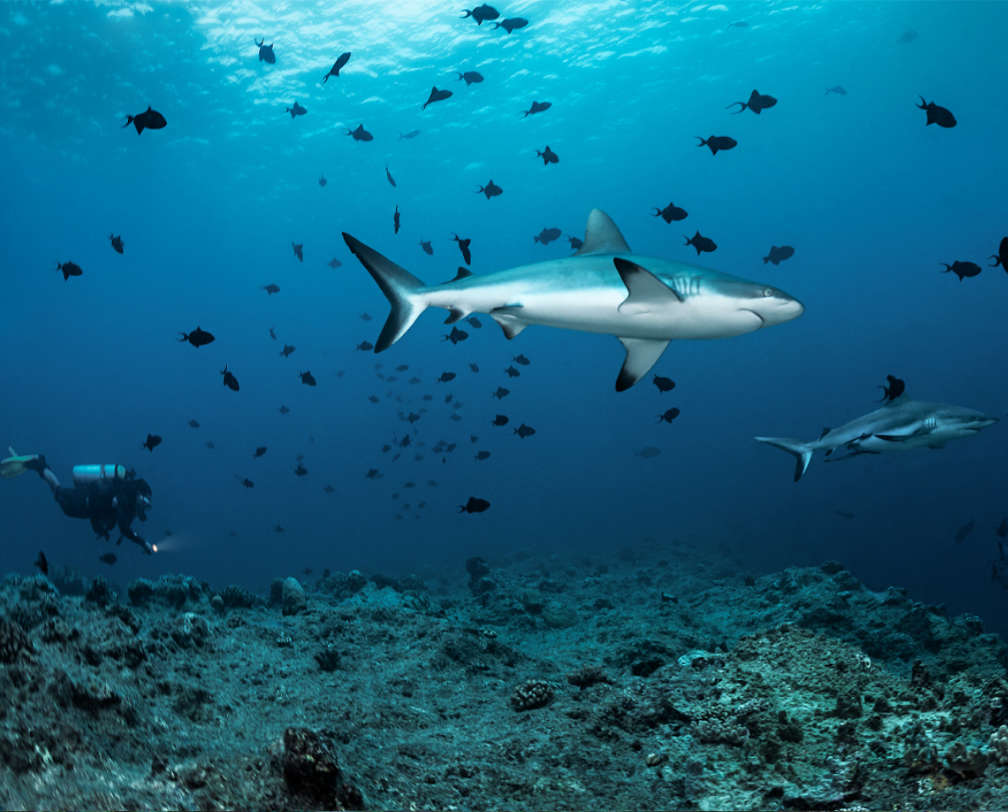 Is Shark Week Palau for you?
Are you a diving enthusiast who loves the thrill of swimming with sharks? Are you passionate about ocean conservation and want to be part of a community of like-minded individuals? If so, then Shark Week Palau is the event for you!
Shark Week Palau takes place in one of the world's best dive destinations and the first shark sanctuary. This event is a perfect opportunity for divers who want to explore Palau's pristine waters and get up close with a variety of shark species. You'll have the chance to witness the beauty and grace of these magnificent creatures in their natural habitat, while also learning about their importance to the ocean's ecosystem.
Click Booking Link • Select your preferred Hotel • Book Shark Week Dive Package
BOOK SHARK WEEK PALAU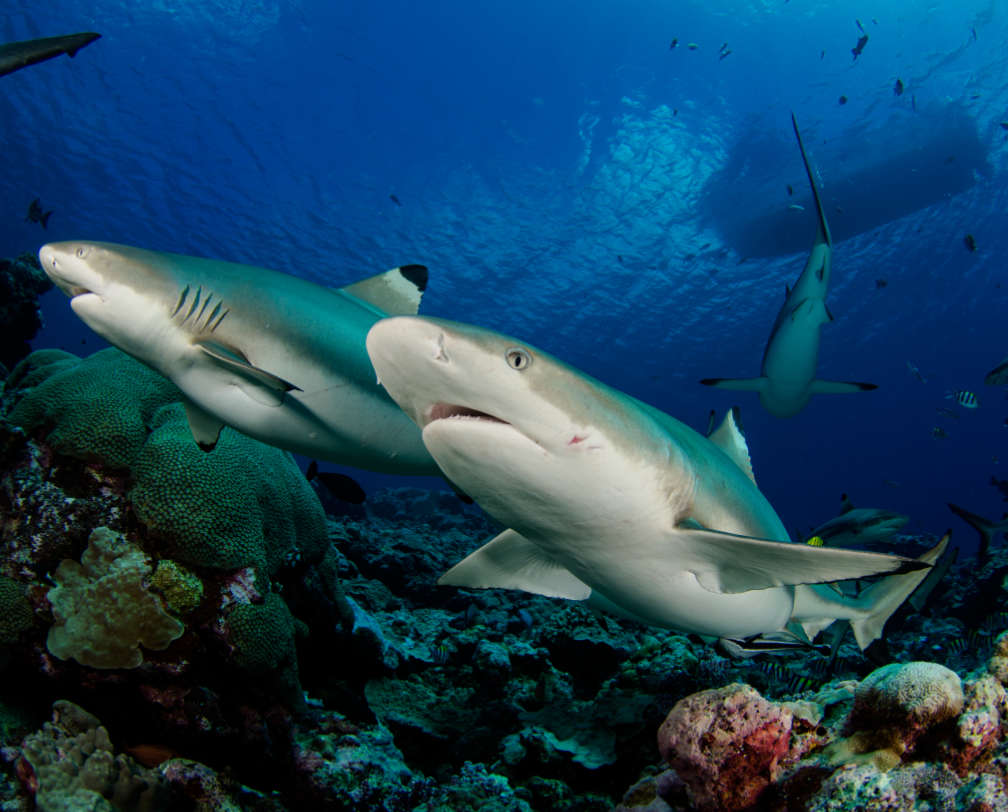 Special features of the 2024 event
In 2024, Shark Week Palau participants will be invited to take part in a short video competition with prizes ranging from a GoPro to a PRO camera. The winner of the competition will be crowned at the gala night, where guests will meet local conservationists, enjoy a festive Palauan buffet, and view the Shark Week Palau 2024 video.
Booking Shark Week Palau
Booking Shark Week Palau is just a click away. Start by finding the right accommodation for you and then visit then add your Shark Week Package - see you during Shark Week!