Embark on a journey of unparalleled adventure and luxury with the most sought-after liveaboard experience in Palau. Ocean Hunter Liveaboard has earned its reputation as a world-class destination, consistently adorned with international awards and praise from divers across the globe.
At Ocean Hunter, we take pride in our exceptional team of staff, each with over a decade of experience in the industry. Their passion for diving and dedication to creating unforgettable memories ensure that your every moment with us will be nothing short of extraordinary.
Ocean Hunter Liveaboard – Palau's Epitome of Luxury Diving!
Prepare to indulge in a culinary voyage like no other, guided by our renowned chef. All meals are included in your stay, and our diverse menu caters to a wide range of tastes, including options for vegans and vegetarians. For our coffee connoisseurs, an espresso machine stands ready, inviting you to savor freshly brewed coffee at your leisure.
Rest assured, we take dietary restrictions seriously and will gladly accommodate any special needs, as long as we are informed in advance. Your comfort and satisfaction are our top priorities.
Our vessel boasts top-notch amenities and comfortable cabins, each equipped with an intercom system. Stay connected with our friendly crew and receive daily updates, whether it's for mealtime or your wake-up call before plunging into the majestic waters of Palau.
Safety is of utmost importance to us. Ocean Hunter is outfitted with state-of-the-art safety, fire, and navigation devices, ensuring you can fully immerse yourself in the adventure with complete peace of mind.
In the spirit of true exploration, we intentionally offer a respite from the online world. Disconnect from the virtual realm as we journey to awe-inspiring dive sites, taking you away from it all to embrace the beauty of nature in its purest form.
Our team of diving experts holds an unparalleled knowledge of Palau's underwater wonderland, guiding you through each dive site with expertise and enthusiasm. Get ready to witness stunning coral reefs, encounter vibrant marine life, and revel in the magic of Palau's aquatic realm.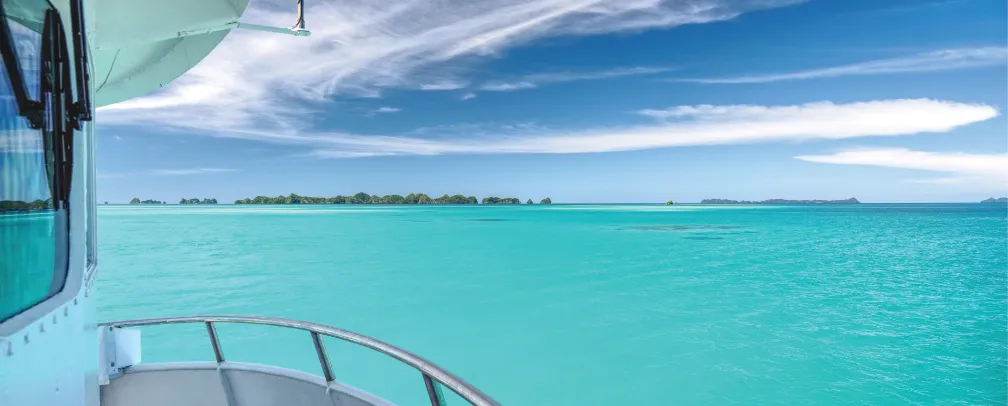 Whether you're an experienced diver seeking new thrills or a curious soul venturing into the depths for the first time, Ocean Hunter Liveaboard promises an extraordinary and transformative experience like no other.
Unveil the adventurer within you, for your ultimate dive vacation begins here. Welcome to Ocean Hunter Liveaboard – Where Adventure & Luxury Meet in the heart of Palau's pristine waters!
Book your voyage now and secure an unforgettable journey with Ocean Hunter Liveaboard. Your dream diving experience awaits!
LEARN MORE ABOUT OUR VESSEL
Discover Pristine Palau with Air Niugini's Convenient Flights
Air Niugini has been a leading airline in Papua New Guinea since 1973, providing a vital service to local communities and the tourist industry. The airline has been expanding its services rapidly over the years, and now operates domestic flights from Port Moresby and Lae, as well as international services in Asia, Oceania, and Australia. Recently, Air Niugini has started operating flights to the Republic of Palau via PNG, which presents a fantastic opportunity for Australians to fly conveniently to the pristine pearl of the Western Pacific.
We are thrilled to introduce this flight to our Australian friends and would love to welcome YOU. The flight portion will provide travelers with a comfortable and convenient journey to the Republic of Palau, allowing them to enjoy Palau Pacific Resort, Palau's most luxurious resort and the world-class scuba diving experience with Fish 'n Fins & Ocean Hunter.
Air Niugini Brisbane - Palau Schedule
Air Niugini Flight PX 6 departs from Brisbane every Tuesday at 14:40, providing a convenient and hassle-free journey to the Republic of Palau via Port Moresby. The flight duration is approximately 8 hours and 50 minutes, including a short stop-over in Port Moresby. The flight is operated by a Boeing 767-300, ensuring a comfortable and enjoyable experience for all passengers.
Upon arrival at the Roman Tmetuchl International Airport in Palau, travelers will be greeted with breathtaking views of the island group's unmatched beauty and pristine waters. The return flight, with the flight number PX 5, departs from Palau at 23:45, with a short stop-over in PNG before arriving back in Brisbane after approximately 8 hours and 50 minutes. With its commitment to safety, reliability, and customer satisfaction, Air Niugini is the ideal choice for travelers seeking a hassle-free and comfortable journey.
To start your great Palau vacation, simply click the button below to be connected to Air Niugini's online booking machine and book your flights today.
BOOK YOUR FLIGHT TO PALAU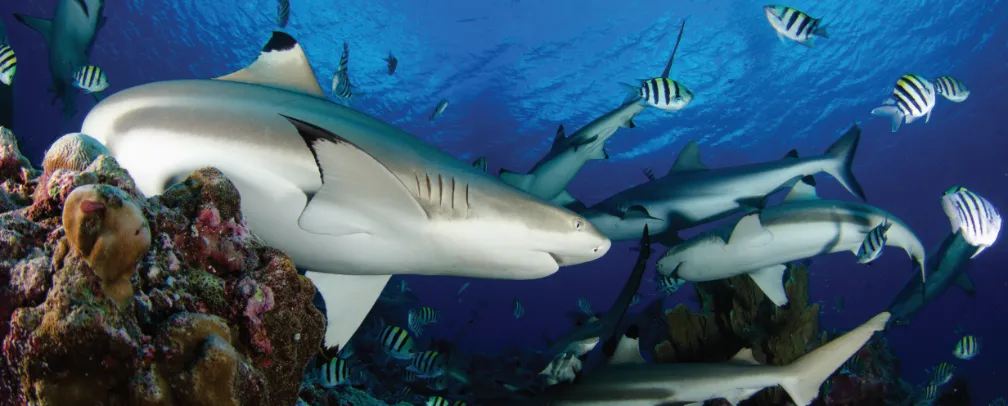 Discover Palau - Where Adventure & Luxury Meet in an Aquatic Wonderland
Immerse yourself in the breathtaking aquatic paradise of Palau, renowned as one of the world's top three dive destinations. Prepare for a diver's utopia where crystal-clear waters unveil an awe-inspiring world teeming with marine wonders. Glide alongside graceful sharks and majestic manta rays, captivated by the vibrant marine life that gracefully dances around you. The walls of Palau's underwater realm showcase a kaleidoscope of hard and soft corals, weaving a tapestry of colors that will leave you breathless.
Venture into the depths and uncover the secrets of over 30 World War II wrecks, each an enthralling piece of history waiting to be unraveled. For the daring adventurer, thrilling caves and caverns beckon, enticing you to embark on daring journeys into the unknown. Palau, the dream destination for every diver, invites you to unlock the door to an unforgettable underwater world, where enchantment, amazement, and inspiration await.

Witness Breathtaking Spawning Dives - An Unforgettable Highlight
Prepare to be awe-struck by the mesmerizing spectacle of fish aggregation and spawning dives, an absolute highlight of our Palau diving experiences. Early mornings come alive as thousands of fish gather for magnificent spawning events, creating an enchanting dance of life and color beneath the surface. Some of our offered trips present a rare opportunity for our esteemed customers to witness these breathtaking moments firsthand.
Join us on an unforgettable journey where you'll be immersed in the magic of nature's underwater symphony, surrounded by the grandeur of marine life in its purest form. Palau's aquatic wonderland offers you a chance to be a part of something truly extraordinary—an experience that will leave an everlasting imprint on your heart. Don't miss this once-in-a-lifetime opportunity to witness the marvel of nature's miraculous underwater gatherings.
Come and dive into the extraordinary world of Palau, where adventure and luxury converge to create an unparalleled experience that will stay with you for a lifetime. Are you ready to be enchanted, amazed, and inspired? Let's embark on this unforgettable journey together!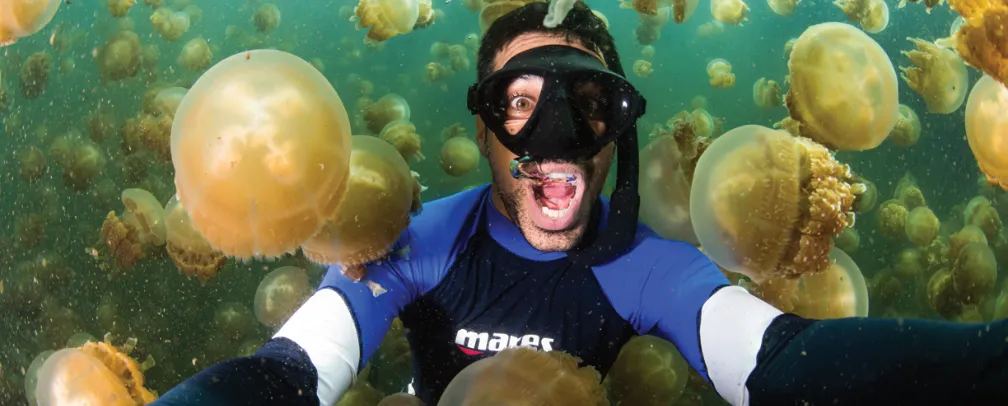 The Ultimate Dive and Stay Package - Unravel Your Palau Adventure!
Welcome to the ultimate dive and stay experience in Palau, where your underwater dreams come to life! Your unforgettable journey begins the moment your flight from Brisbane touches down in Palau at 22:30. Rest assured, our dedicated team will be there to warmly welcome you at the airport. You'll be whisked away to your cozy cabin aboard the Ocean Hunter, where you'll spend the night, indulging in the anticipation of the incredible days ahead.
As the sun rises, get ready for an adventure of a lifetime. The following days will be filled with thrilling scuba diving excursions, as you explore Palau's magnificent underwater world. Swim alongside graceful marine creatures, witness vibrant coral reefs, and uncover the hidden treasures of over 30 World War II wrecks. With the guidance of our experienced diving team, every dive will be an extraordinary journey into the heart of Palau's aquatic wonders.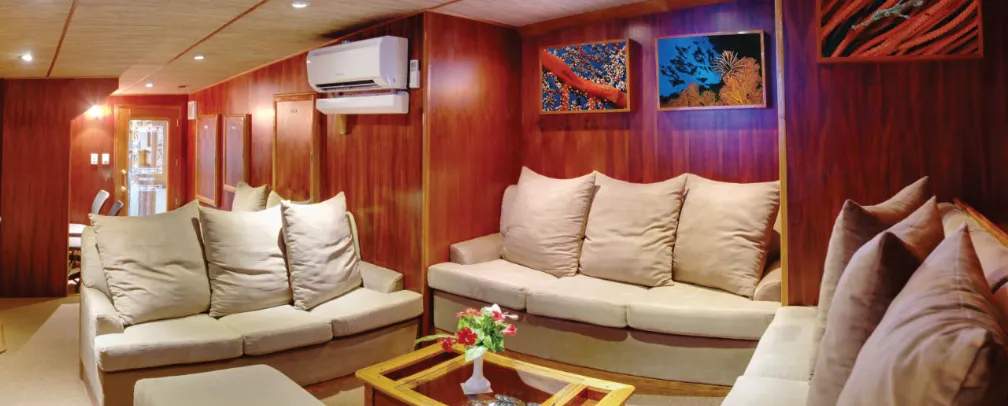 But it's not just about the dives; it's about creating cherished memories and forging new friendships. Share stories with fellow divers during meals that showcase our chef's culinary expertise. From tantalizing seafood dishes to delectable vegan and vegetarian options, every meal will be a delightful feast for your taste buds.
As your incredible Ocean Hunter adventure draws to a close, we'll make sure your last day is just as remarkable. Check-out time at 8:30 am from the vessel will leave you with a choice to make. Extend your experience with a day room for relaxation, or join us for an exciting island tour to savor Palau's enchanting beauty. Better yet, why not do both and make the most of your time before your flight, which departs at 23:45 from Palau's International Airport?
Rest easy knowing that we'll ensure you're at the airport with plenty of time to spare, so you can bid farewell to Palau with a heart full of cherished moments and an album of unforgettable experiences.
Are you ready to embark on the ultimate dive and stay package that awaits you in Palau? Prepare to be captivated by the wonders of the deep, indulge in luxury, and create memories that will stay with you long after you return home. Your adventure begins here—let's make it extraordinary!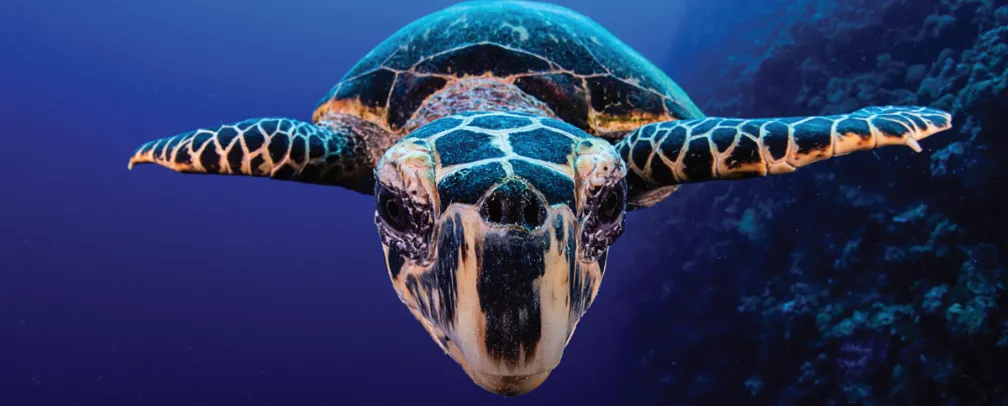 Unmatched Adventure - Dive into a World of Wonder
Get ready to embark on an unmatched adventure that will take you to the very heart of Palau's underwater wonderland. With up to 5 dives per day, you'll be immersed in a scuba diver's paradise, exploring the breathtaking walls adorned with a mesmerizing array of hard and soft corals. Each dive will be a captivating journey, revealing the secrets of the deep as you glide effortlessly through crystal-clear blue waters.
Palau's waters are teeming with life, and you'll have the extraordinary opportunity to encounter majestic sharks gracefully roaming their natural habitat. The clear blue expanse provides the perfect backdrop to witness these magnificent creatures in all their glory, creating an awe-inspiring experience like no other.
As you venture deeper, you'll discover the hidden gems of Palau's underwater landscape – thrilling caverns and caves. These mysterious environments offer an exhilarating escape, inviting you to venture into the unknown and unravel the secrets they hold.
One of the most unforgettable encounters awaits at German Channel, where you'll find yourself hovering alongside majestic manta rays. These gentle giants gracefully glide through the water, leaving you in sheer awe of their elegance and beauty.
But the adventure doesn't stop there. Prepare to witness an extraordinary spectacle as thousands of fish aggregate for their annual mating ritual. The sight of this underwater dance, filled with vibrant colors and harmonious movements, is a true testament to the wonders of nature.
With every dive, you'll be crafting memories that will last a lifetime. Palau's unparalleled beauty will leave an indelible mark on your heart, and the experiences you'll gather here will be cherished forever.
Join us for an unmatched adventure, where every dive is a journey into the extraordinary. Palau beckons you to dive deeper, explore further, and immerse yourself in the magic of its aquatic realm. Are you ready to make the dive experience of a lifetime? Let's dive in together!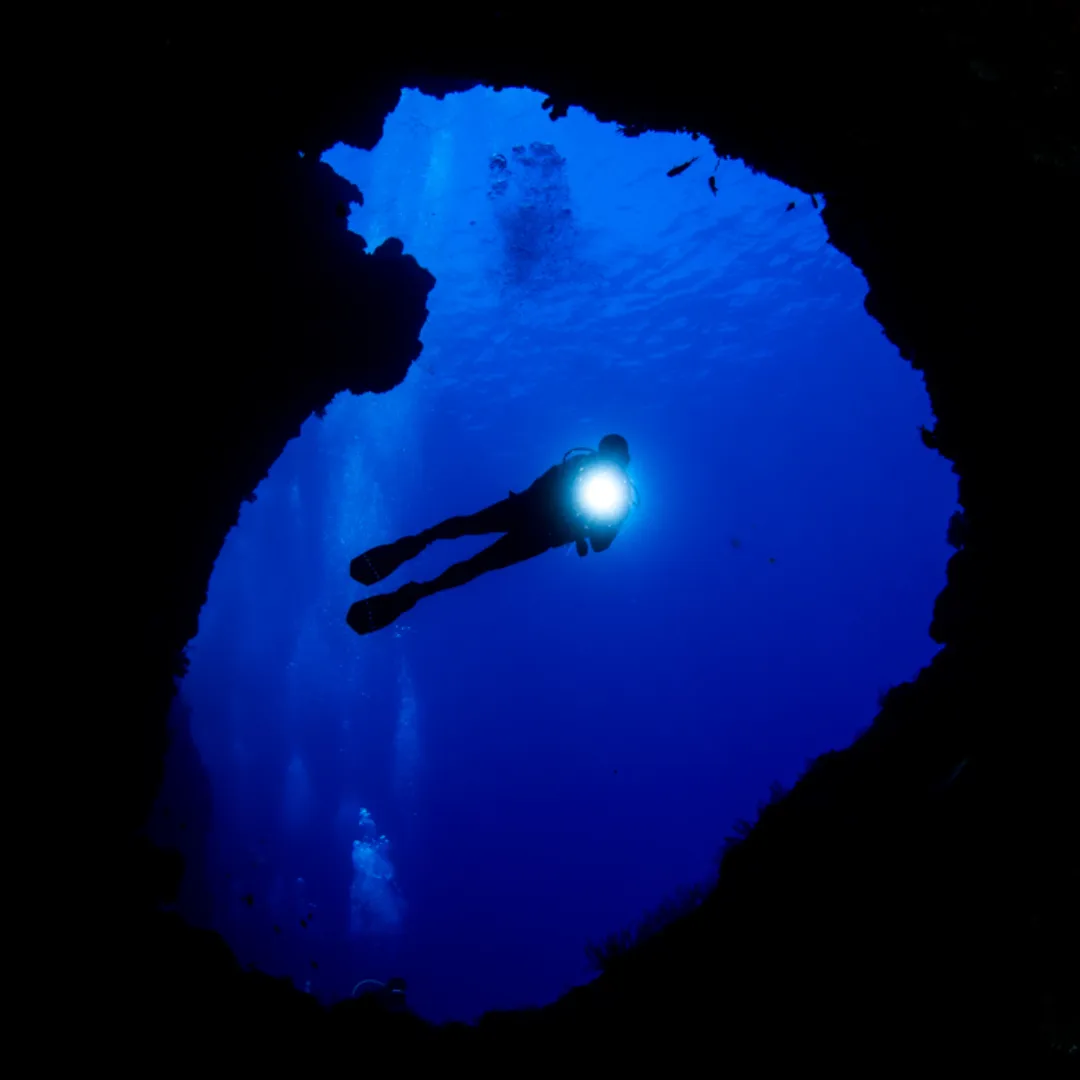 This was my second trip with Ocean Hunter III because I had such a great experience the first time. I wasn't disappointed. It was the same crew as 3 years ago and that speaks volumes about the operation. I've done liveaboards in Fiji, the Bahamas, and the Philippines and found the experience with Fish 'n Fins the best overall. While most crews will try to satisfy you, the OH crew work hard to anticipate your needs and are EAGER to help in any way possible. Everyone with me felt like part of the family early into the trip. And the FOOD!!! Simply incredible food. I did 4 and 5 dives a day and still gained weight. Tova has put together a fantastic team. I cannot emphasize enough how special we all felt. This is nothing like other liveaboards which focus on cramming as many people as possible onto one boat. It's a little more expensive but you get so much more. Absolutely worth it.
Blake Ingram
USA
Exquisite Accommodations - Your Home Away from Home
At Ocean Hunter Liveaboard, we take great pride in providing exceptional accommodations that cater to your comfort and preferences. Choose from three classes of cabins, each meticulously designed to ensure your stay is nothing short of extraordinary.
1. Standard Cabins: Located on the lower deck, our Standard Cabins offer a cozy and welcoming retreat. Despite being the most affordable option, they don't compromise on quality and convenience. Relax in a tranquil atmosphere and enjoy the ease of having all the amenities you need right at your fingertips. You'll find yourself well-rested and ready for the adventures that await you.
2. Deluxe Cabins: Our Deluxe Cabins offer a step up in luxury and style. Most of these well-appointed cabins are situated on the lower deck, offering a peaceful ambiance for a rejuvenating night's sleep. However, one exceptional Deluxe Cabin awaits you on the sundeck of the upper deck, providing a truly unique and breathtaking experience. Whether you choose a lower deck or sundeck option, you'll indulge in comfort and convenience throughout your stay.
3. Master Staterooms: For those seeking the pinnacle of luxury, our Master Staterooms are the epitome of elegance. Located on the upper deck, these spacious and beautifully designed cabins redefine the notion of a lavish retreat. Envelop yourself in an oasis of sophistication, with en-suite bathrooms and every amenity you could desire. Wake up to awe-inspiring panoramic views, setting the stage for a day of extraordinary diving and adventure.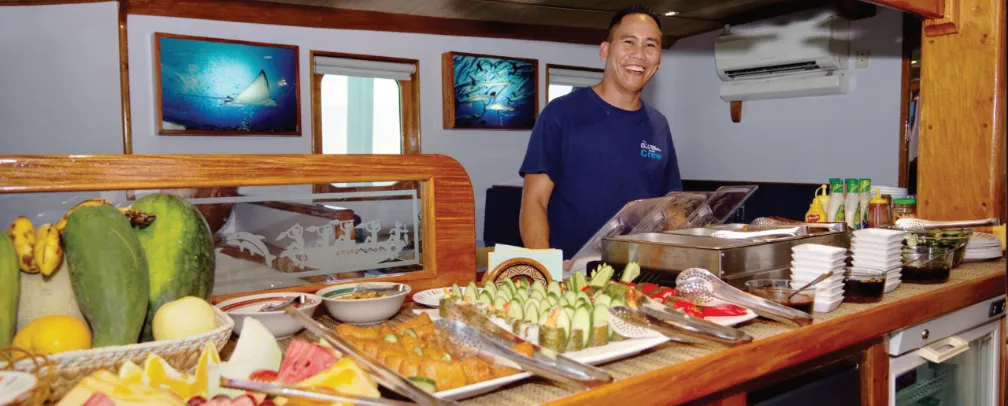 All cabins are thoughtfully equipped with en-suite bathrooms, ensuring your privacy and comfort. Immerse yourself in an ambiance of relaxation and tranquility after an exhilarating day of diving.
To learn more about each cabin class and explore the lavish details of our accommodations, click here and discover the perfect abode for your dream dive vacation.
Prepare to be pampered and delighted in our exceptional cabins, where every moment is designed to enhance your Palau experience. We can't wait to welcome you aboard and offer you a home away from home that will exceed your every expectation. Let's begin your unforgettable journey into Palau's aquatic wonderland, where luxury and adventure unite in harmony.
Expert Dive Professionals - Your Guides to Palau's Pristine Reefs
At Ocean Hunter Liveaboard, our pride and joy are our exceptional team of PADI instructors and dive guides. We boast the best dive professionals in Palau, each with a wealth of experience that only years of exploring these waters can produce. When you dive with us, you'll have the privilege of sharing your underwater adventure with these passionate experts who have an intimate knowledge of Palau's aquatic wonders.
Our PADI instructors are not only highly skilled but also incredibly friendly and dedicated to ensuring that your diving experience is nothing short of extraordinary. Whether you're an experienced diver seeking new challenges or a beginner taking your first plunge, our instructors will make sure you feel comfortable, safe, and at ease throughout your journey.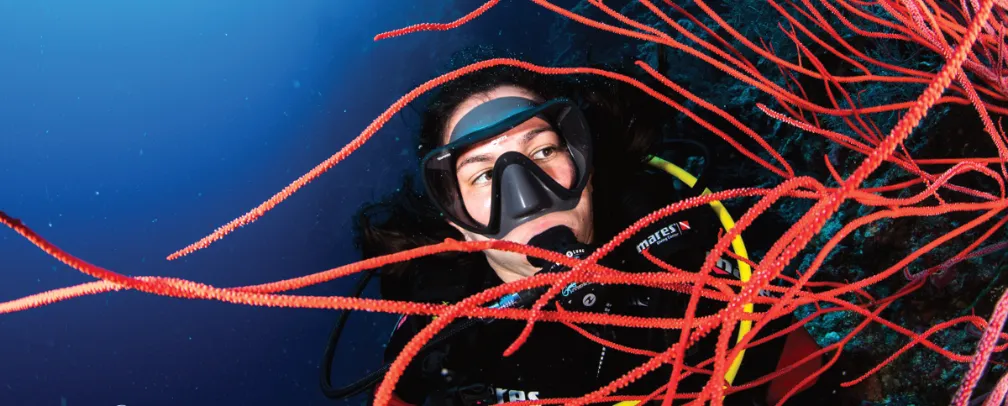 When you dive alongside our seasoned dive guides, you'll uncover the nuances and secrets of Palau's pristine reefs that only their keen eyes can reveal. Their deep connection with these waters allows them to lead you to the most remarkable dive sites, where you'll witness stunning coral formations, diverse marine species, and underwater vistas that will leave you in awe.
As you glide through the mesmerizing blue depths, our team's passion for the ocean and love for Palau's underwater world will be palpable. They'll gladly share their knowledge about the marine life you encounter, adding a layer of understanding and appreciation to every dive.
Whether you're diving amidst the vibrant coral gardens or exploring the historic shipwrecks, our expert dive professionals will be by your side, ensuring you make the most of each moment. With their guidance, you'll gain new perspectives on the beauty and delicacy of Palau's marine ecosystem.
At Ocean Hunter Liveaboard, we believe that a truly exceptional diving experience goes beyond just the sights; it's about forging meaningful connections with the environment and those who explore it with you. Our passionate dive professionals will make your dive adventure not only safe and informative but also an unforgettable journey into the heart of Palau's aquatic realm.
Get ready to dive alongside the best in the business, as our team of dive professionals leads you to the extraordinary wonders that await below the surface. Are you ready to dive deeper and create memories that will last a lifetime? Join us as we set sail for an unparalleled diving experience with the guidance of our exceptional team. Let's explore Palau together, where adventure, knowledge, and passion collide!
Limited Time Offer - Dive into Palau's Wonders at an Unbeatable Rate!
Exciting news for all adventure seekers! We're thrilled to present a special opportunity to experience Palau's underwater paradise like never before. For a limited time only, we're offering 5 exclusive dive trips at an incredible discounted rate.
📅 Trip Dates:

September 19 - 26, 2023

September 26 - October 3, 2023

October 03 - 10, 2023

October 10 - 17, 2023

October 17 - 24, 2023
Spaces are limited, and this incredible deal is destined to sell out fast. Don't miss your opportunity to secure your spot in one of these coveted dive trips. Book now and secure your seat for a journey that promises exhilarating adventures, cherished memories, and new friendships that will last a lifetime. Palau's underwater realm awaits your discovery, and we can't wait to share this unparalleled experience with you. Pack your dive gear, prepare for unmatched adventure, and let's create memories that will leave you longing to return to this breathtaking oasis.
Additional Costs - Enhance Your Experience
At Ocean Hunter Liveaboard, transparency is key, and we want you to have a clear understanding of any additional costs not included in the package. These optional add-ons allow you to customize your dive adventure to your liking, ensuring an extraordinary experience tailored to your preferences.
Nitrox ($218) per person and trip - Extend your bottom time and make the most of your dives with enriched air
Koror State Permit ($103) - Experience the beauty of Koror's marine reserves and support conservation efforts - Mandatory Extra
Peleliu Permit ($30) per person and trip - Explore the historic sites and vibrant reefs of Peleliu, a diver's paradise - Mandatory Extra
Rental Dive Gear ($35/day) per person full gear - Travel light and rent top-quality dive equipment for hassle-free diving
Island Tour ($126.50) per person - Venture beyond the underwater wonders and discover Palau's captivating landscapes
Hotel Day Room (price depending on hotel and room category) - Indulge in comfort and relaxation before your departure
These optional extras can elevate your dive vacation, adding convenience and new dimensions to your journey. Our reservations agents are here to assist you in customizing your trip to perfection. Let's create an adventure uniquely yours!
Seamless Trip Planning - Dive into Adventure with Ease
At Ocean Hunter Liveaboard, we believe that planning your dream dive trip should be as exhilarating as the journey itself. That's why we've designed a seamless online booking system, putting the power to curate your unforgettable adventure right at your fingertips.
With just a few clicks, you can effortlessly browse through our array of dive trips and cabin options. Choose your preferred dates from our carefully selected itineraries, ensuring that your trip aligns perfectly with your schedule. Whether you're seeking a thrilling September adventure or an exciting October escapade, our limited-time offers will ignite your wanderlust.
Once you've selected your ideal trip, our intuitive booking platform allows you to reserve your cabin swiftly and securely. The process is a breeze, leaving you with more time to envision the wonders that await beneath the waves.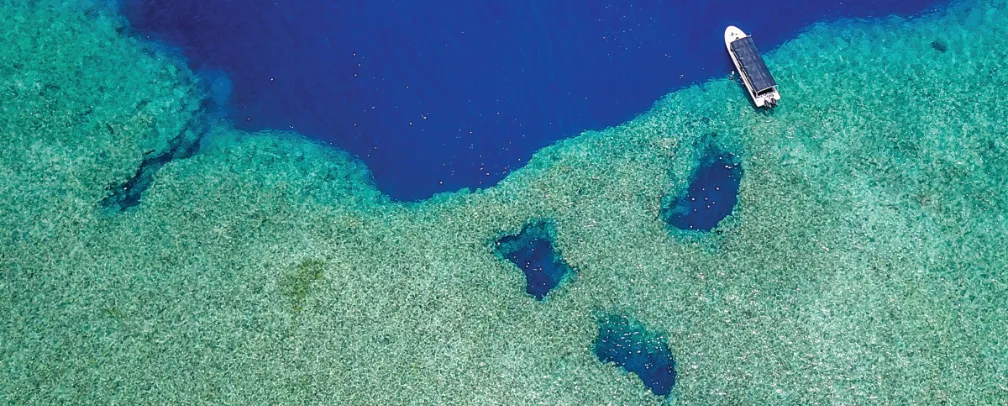 But our commitment to you doesn't end there. As soon as your booking is confirmed, one of our dedicated reservations agents will reach out to you, ensuring every detail is personalized to your preferences. From assisting you with additional trip arrangements to answering any questions you may have, our team is here to turn your dream dive vacation into a reality.
We understand that every diver's needs are unique, and our reservations agents will work closely with you to craft an experience that exceeds your expectations. Whether you're interested in exploring enchanting island tours or adding the convenience of Nitrox to your dives, we've got you covered.
With Ocean Hunter Liveaboard, you can rest assured that all aspects of your trip will be meticulously arranged, leaving you free to dive into the anticipation of your upcoming adventure. Our transparent payment arrangements ensure clarity and peace of mind, so you can focus on counting down the days until you immerse yourself in the wonders of Palau.
Prepare to embark on a dive trip like no other, where planning is a seamless and exciting part of the journey. Embrace the thrill of discovering Palau's aquatic paradise as you plan your trip with ease, knowing that your dream vacation is just a few steps away. Dive into adventure, and let the planning of your extraordinary dive experience begin!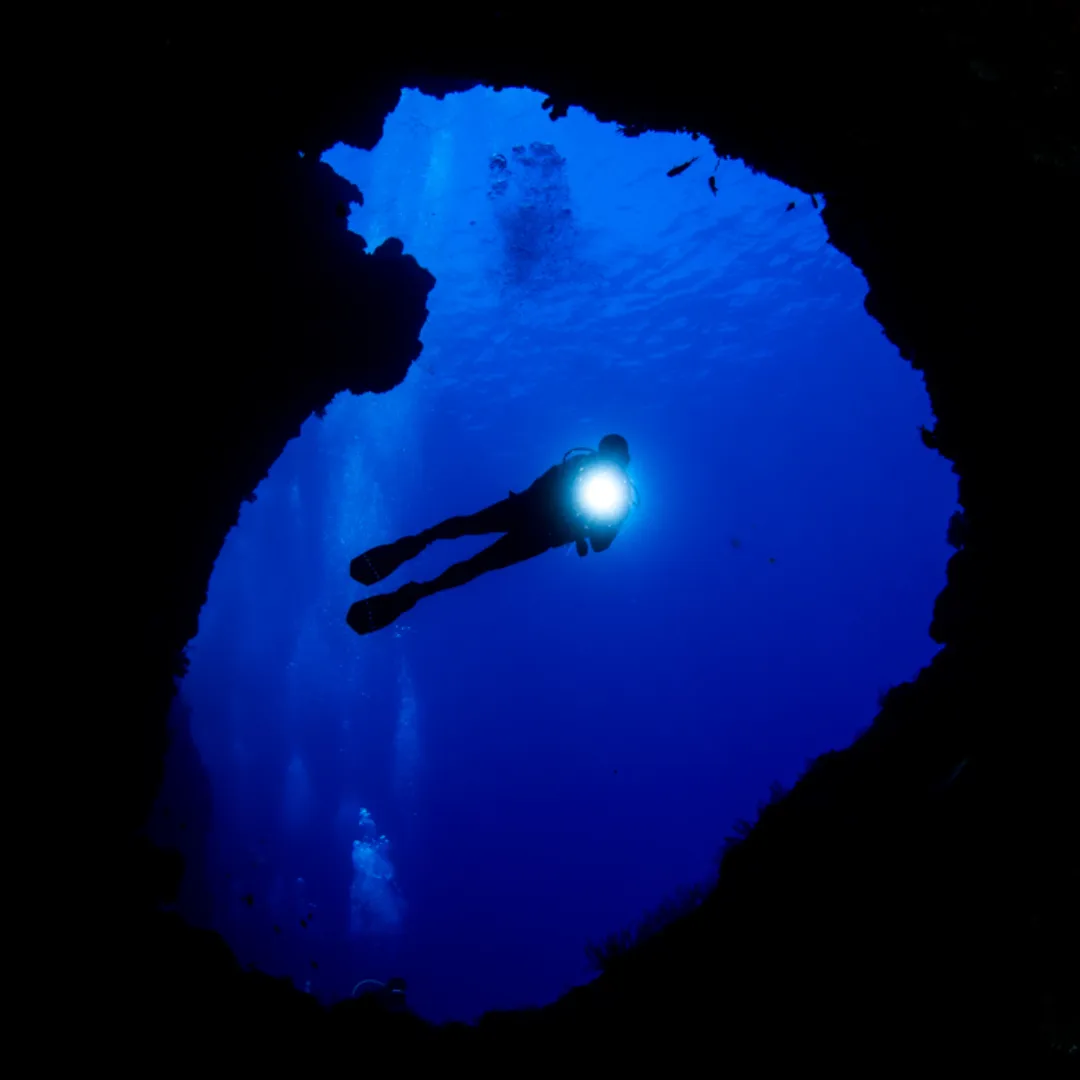 My wife and I have done the Ocean Hunter Palau four times now and have loved every minute of it. Unlimited diving in one of the best places in the world, super professional crew and guides, comfortable accommodations and absolutely outstanding food. As photographers, we appreciate the large deck area for cameras. Much thanks to Fish 'n Fins for the fantastic liveaboard experience!
Steve Wolborsky
USA
🌊🛥️🐠 Reserve Your Spot Online Today or Contact Us for More Information! 📞Chat on WhatsApp | 📧 This email address is being protected from spambots. You need JavaScript enabled to view it. | 🌐 www.oceanhunter.com | 🌐 www.fishnfins.com