Of the two dozen Palauan dive centers the largest, and perhaps the most famous is undoubtedly Fish 'n Fins, a long-term reliable partner of "Ultimate Depth Magazine Russia".
IANTD instructor-trainer and master of underwater photography (and much more) Anatoly Beloschin has almost traveled the entire world and dove almost all the World's best dive sites. In his 20 years as a photojournalist, he made it to Palau in February 2019 for the first time. He did not only visit to bring this story home, but he also fell madly in love with Palau.
Since I have started traveling the world I have always been dreaming of visiting Palau - but it never happened until now - my editors sent me to Palau with a new assignment. Finally, I had to go to Palau - more precisely fly.
Even today there are not so many regular flights from our corner of the world to Palau, the choices are not too many. The most convenient route from Moscow is via Seoul, there are unfortunately no other options with only one stopover. Eight hours from Sheremetyevo International Airport to Seoul and then another five and a half hours to Roman Tmetuchl International Airport in Palau. Plus 11 hours layover in Seoul - 11 quite pleasant hours, as Incheon Airport is the most comfortable hub in the world. You can use the time, for example, to enroll in a free tour of Seoul and the surrounding area, from two to six hours. No visa required.
Meaning, we landed in Seoul, had a snack, a quick shower, enjoyed a great tour of Seoul, and before we knew it, it was time to carry on to Palau.
A day you would normally have to write off, suddenly became a fully-fledged, rich tourist event.
I think because of the six-hour time difference to Moscow my perception was different - it was almost like in a video - from a short scene in Moscow with taxi and airport - to a city tour in Seoul and finally the landing in Palau and the inspection by the customs officer - Cut :-)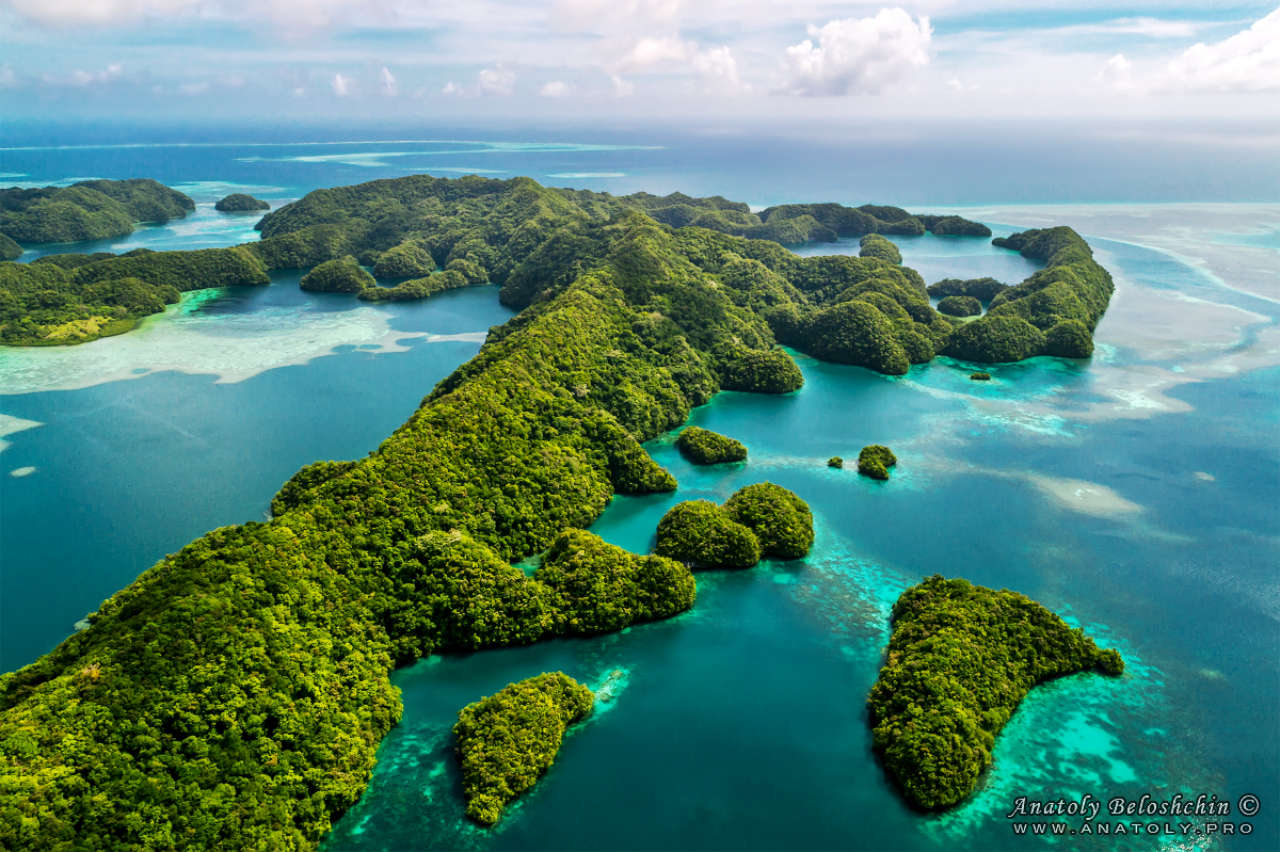 LANDING IN PALAU
Officers were manually searching some of the bags, looking for cigarettes, alcohol, and food. Strict regulations are in place - so better check Palau's customs website before entering the Republic of Palau.
The time was now well after midnight, in line at the airport, and our bags needed to be checked - we wanted to go to bed … to start with I gave the officer a bag with the ordinary camera gear. The customs officer opened the zipper, and the "minions" that are living there, looked at him.
Yes, these guys are really living there
Followed by - Here is my permission from the National Aviation Administration to import my quadcopter - although a similar document did not help in Jordan, it was very hard to get my drone in there.
CELL PHONES & INTERNET PALAU
Let's check cell phone reception - of the four telephones taken with us (and not only domestic operators) to my surprise none was working in Palau - no roaming with any foreign cell phone provider worked. The second surprise - although the Russian website Yandex had warned that there is no internet on cell phones - with a local SIM you can buy 20 GB for US$ 45.00 valid for 30 days. By the way - speaking of US Dollars - Palau's official currency is the US Dollar.
The majority of tourists come from Korea and Japan. I had heard that until recently lots of Chinese tourists were visiting Palau - a trend that came to a halt due to the fact that Palau has diplomatic relations with Taiwan, something China does not condone.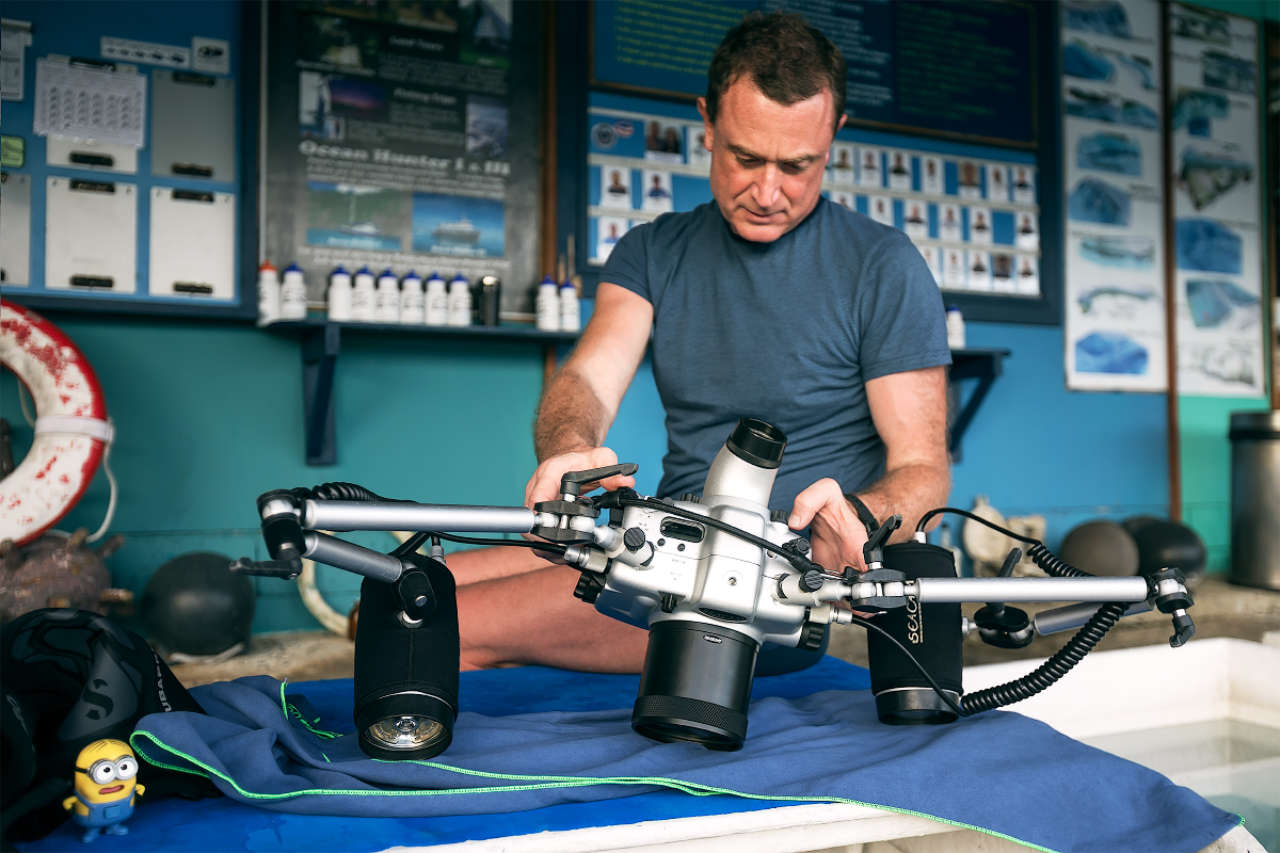 PALAU'S BEST DIVE OPERATION
Of the two dozen Palauan dive centers, the largest, and perhaps most famous, is undoubtedly Fish 'n Fins, a long-term partner of our magazine "Ultimate Depth".
Many times have we featured articles describing how Fish 'n Fins founders Tova & Navot Bornovski had sailed in their own yacht from Florida to Palau to start their business. Today the Fish 'n Fins diving center has its own restaurant, there is a whole fleet of minivans waiting to transfer guests and there is even a helicopter for tours over the famous Rock Islands. The diving center has a capacity of 150 divers per day including tech divers from extended range to advanced trimix. And for recreational divers Nitrox 32 is free of charge.
Most importantly Fish ′ n Fins owns a whole flotilla of boats - at the pier - 11 speedboats for daily diving nicely lined up. We also saw the Ocean Hunter III liveaboard mooring nearby.
Navot Bornovsky is a marine architect & engineer, and the design of the speedboats is his brainchild. Usually, seats in speedboats are placed along the sides but Fish 'n Fins boats are way nicer - they offer pairs of seats, facing forwards, which is much more comfortable. Under each such seat is a dry box for equipment. Scuba tanks geared with BCD and regulator are fixed in tank holders between the seats.
SCUBA DIVING PALAU
It takes the speedboat around 40–50 minutes to dive sites, and this is by no means wasted time - the boat takes you through the Rock Islands, exotic places of unmatched natural beauty.
Our boat had 250 hp twin engines and was very fast - at full speed, the thirty degree Celsius warm and humid air does not feel that hot. Furthermore, when it rains the boat's roof will not fully protect from the rain - this is why I am recommending you bring a windbreaker or buy one at the Fish 'n Fins boutique. Plus a dry bag for your camera and personal stuff would be advisable, even though the boats have dry boxes under the seats. Another thing - there is no toilet on the boat - if you feel the urge the captain stops, lowers the ladder into the ocean and announces - "The Toilet is open" - a very healthy and eco-friendly approach :-)
Finally, we come to diving Palau. How many times have you read that this or that dive site is the best in the world - I have traveled the whole world and I could not point out "the best dive site on the globe", what I can say with certainty is that Palau is definitely one of the very best places in the world. We dove for 10 days and every dive put a smile on our faces, my wife and I loved every minute of it and we fell madly in love with Palau.
These are some of the dives we did.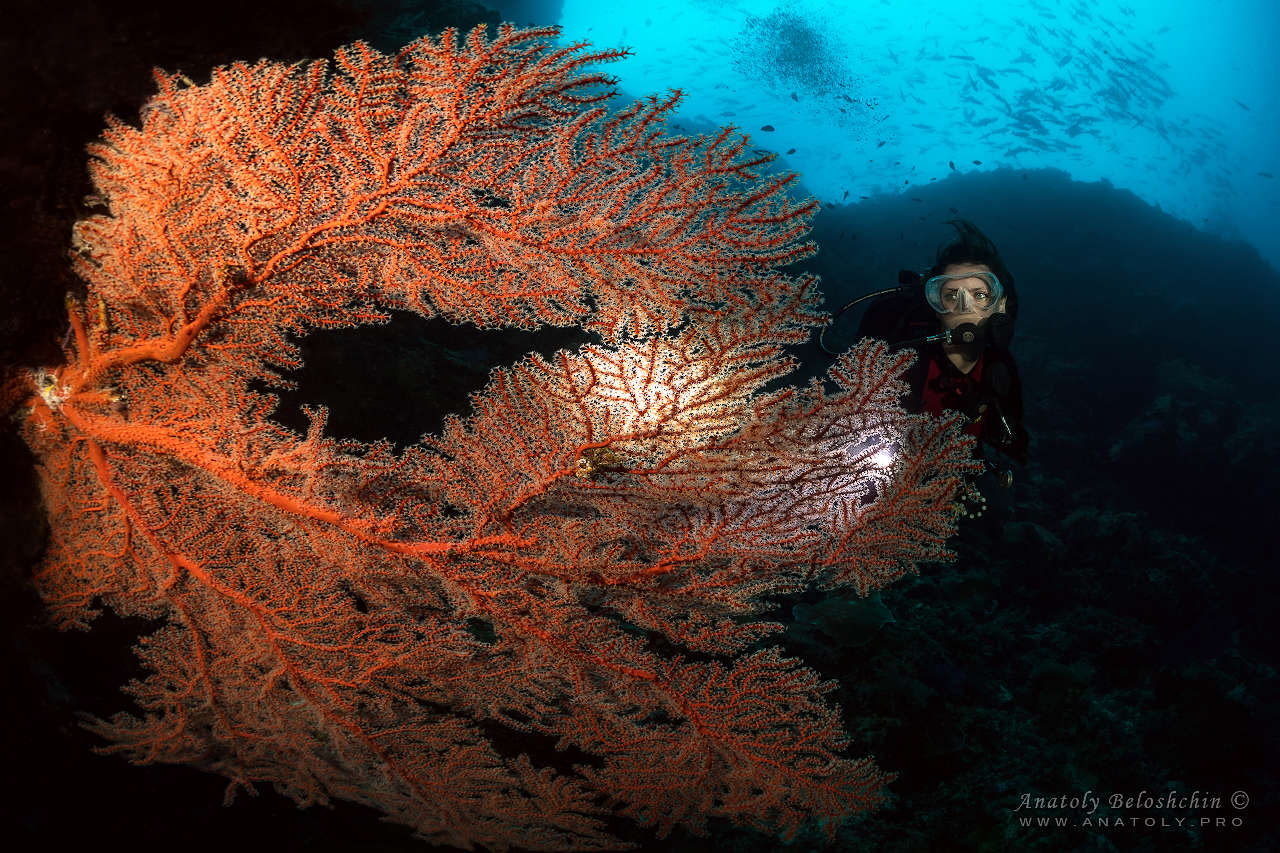 BLUE HOLES PALAU
Our first dive was the Blue Hole, and yes, there is also a Blue Hole in Palau.
Blue Hole Palau is a huge cavern inside the reef with a lot of vertical and horizontal holes. Dropping in from the entrance, the depth is about eight meters. The bottom is about thirty-five or thirty-eight meters. Fantastic light scenes! Direct sunlight fills the cavern through three openings at the top. Diffuse light comes from three other holes in the wall. The picture is completed by a huge arch connecting the cavern with the ocean. And here at the very bottom of the site, the guide shows us a tiny pygmy seahorse on the coral. A lionfish swims in the rays of light …
Suddenly, without any warning, a cold current comes from the ocean. It was even visible! Cold is of course relative. At our diving depth of thirty meters, we had blue water with a temperature of 29 degrees. We had water coming from the bottom, a little greenish and a couple of degrees cooler. This small difference is enough to keep the layers clearly separated from each other - a visible difference.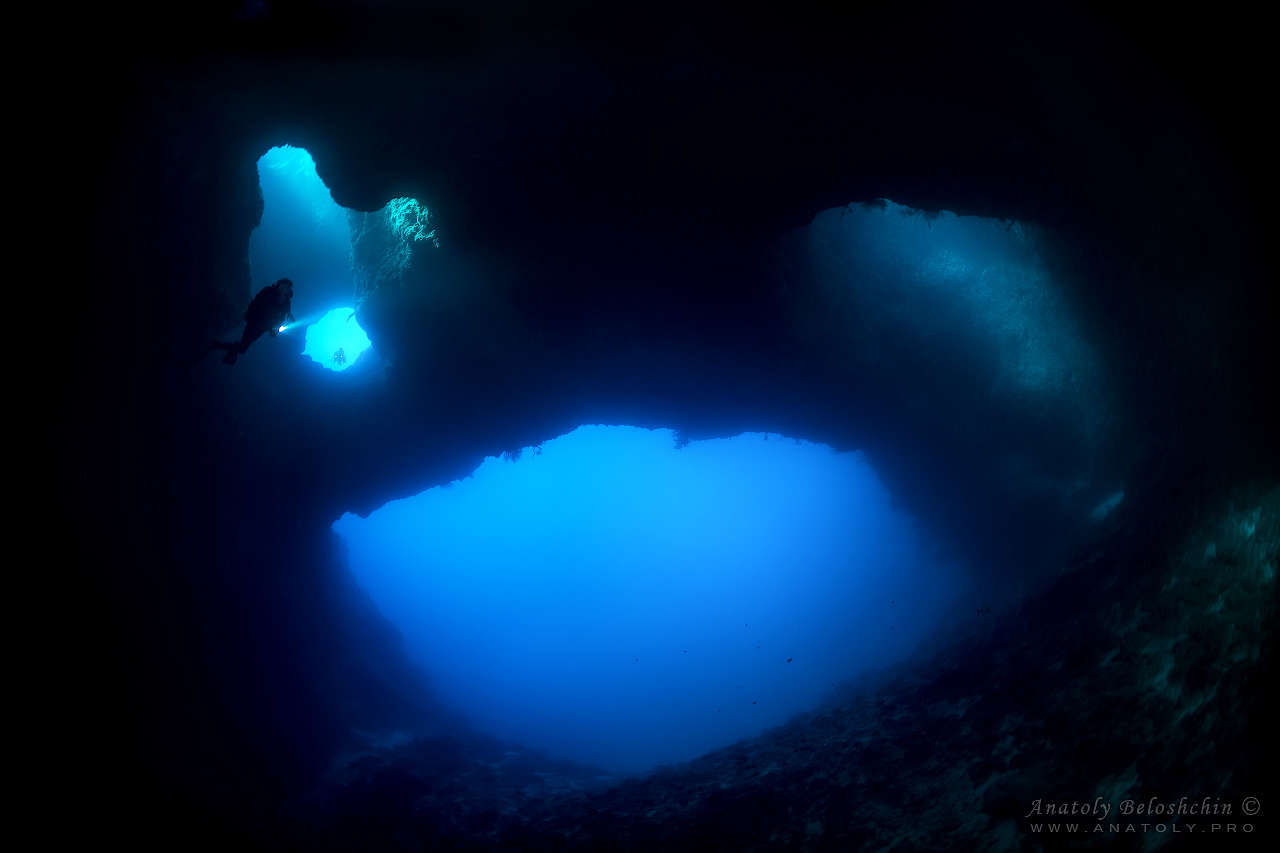 Obviously following the cold current we see Silky Sharks and right behind them a Bull Shark. What kind of a place is this,  where you can see Pygmy Seahorses followed by big sharks … And all this in one single dive!
Inside the Blue Hole is a small cave, it is called the Temple of Doom, and is a cemetery of turtles. As shown fifty years ago in the Cousteau film about Sipadan, the turtles swim into the cave and don't find a way out, this is how they remain in the cave. For the very same reason, divers try not to dive into the cave. I wanted to take a picture of turtle skeletons - but wasn't lucky enough. Someone who was there before had stirred up the sediment from the bottom, which did not allow for a clear shot. That means the skeletons are postponed until the next time, which, of course, will certainly come.
NEW DROP-OFF PALAU
The second dive was the site of New Drop-off. The colorful wall is abundantly covered with all sorts of corals and drops down deep into the dark. On the left a colorful wall, and on the right - sharks in the blue ocean. Fantastic!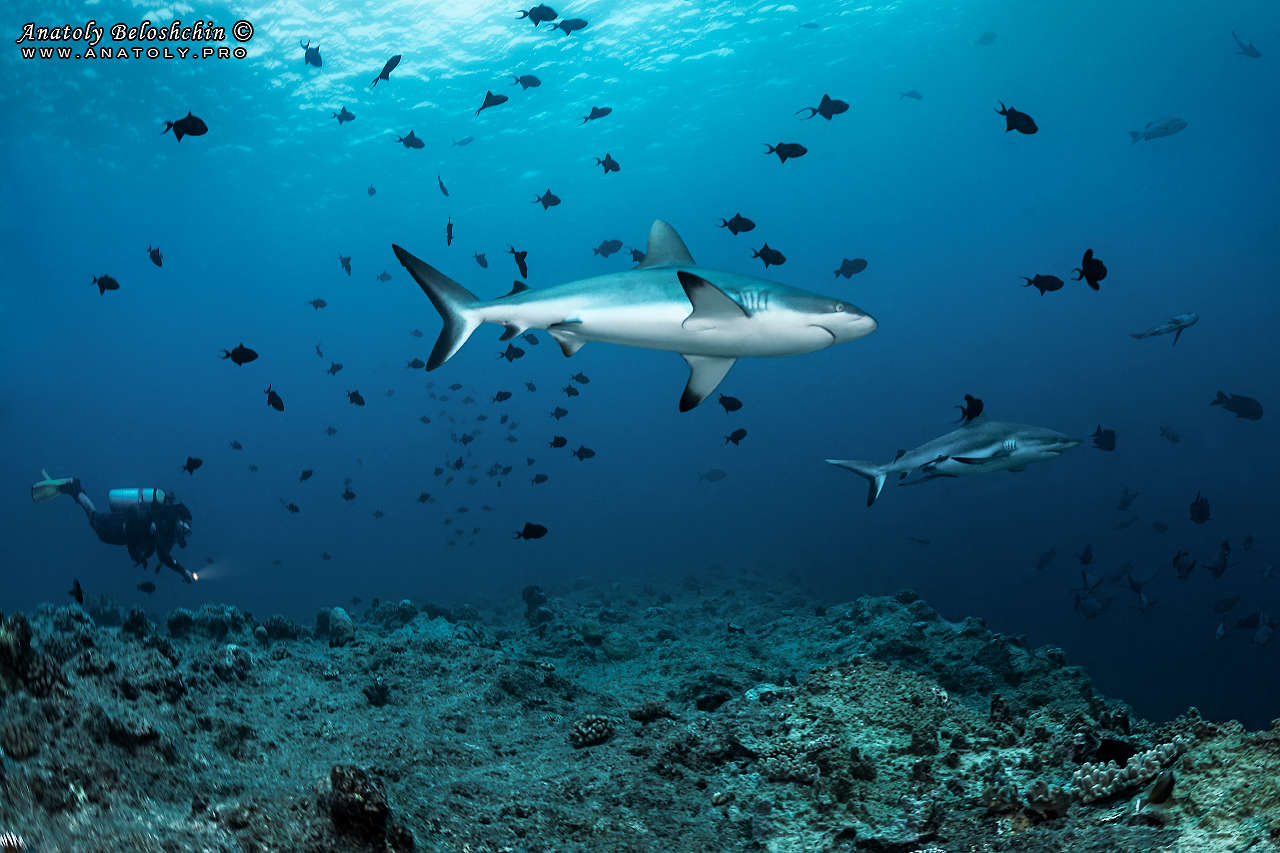 ULONG CHANNEL PALAU
The next day, the first dive was Ulong Channel. Sandy bottom. Small coral formations. Visibility wasn't too good. I looked around. I did not understand, why they would bring us here? Depth of twenty meters. At first glance - boring. Hence I decided to have fun and photograph the minions, remember, the ones who like living in my equipment bag. Just when I put a minion under a huge sea cucumber, my wife Tatyana pushes me to point out a big group of sharks! Now while a big sea cucumber tries to crush the minion, I am distracted by sharks :-) - I just wanted to get angry as a Manta Ray appeared.
Another couple of minutes, and here comes a huge school of barracudas. So for a whole hour, I had to leave the minion be and concentrate on all those big fish. The guide told us that there can be as many as 30-40 mantas at one time - but we were not lucky enough to see that many - we saw mantas every other day - they seem to be quite common in Palau.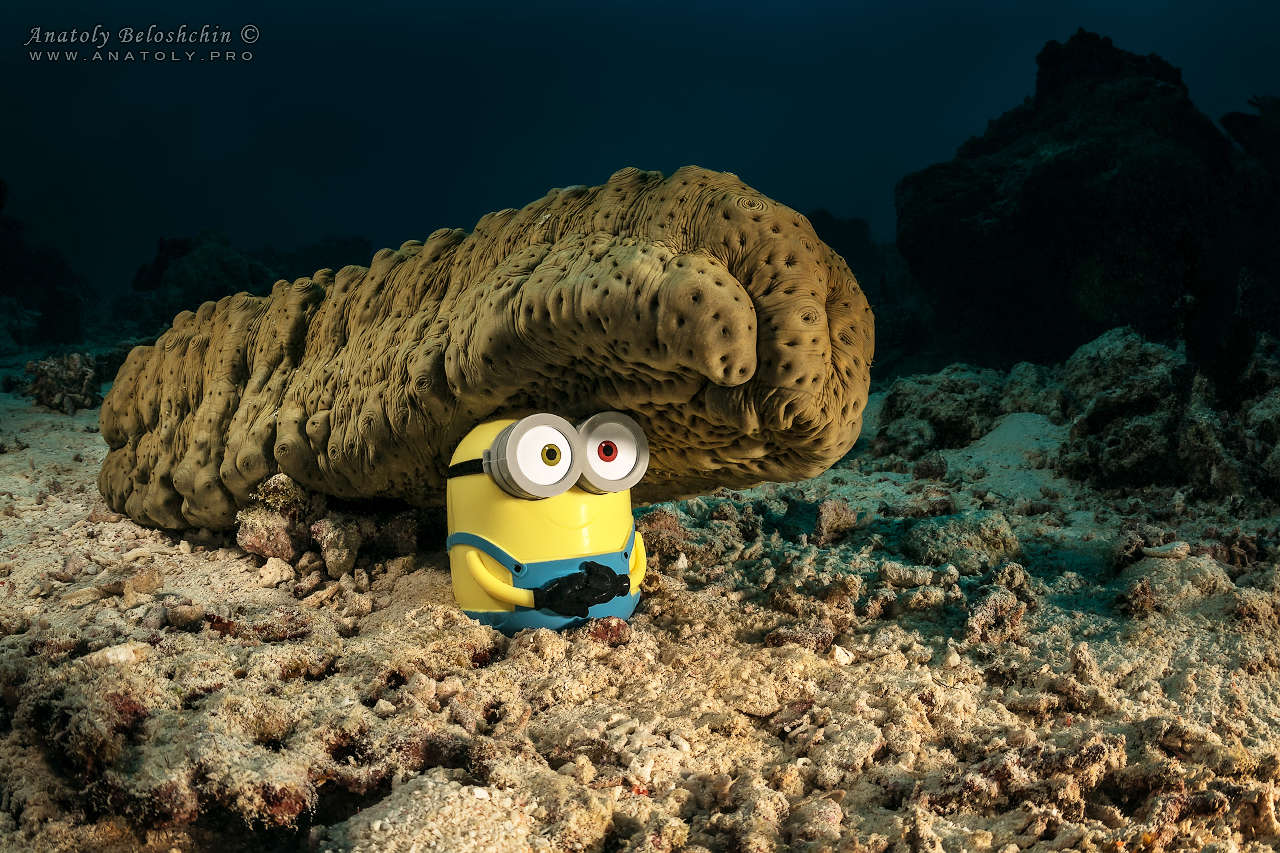 SIAES CORNER PALAU
After an hour's break, we jumped in at the Siaes Corner. Siaes Corner is Palau's answer to the  Shark Reef in Sharm El Sheikh. We felt as if we jumped into the water and were magically transported from Palau to the Southern Sinai.
But the Sinai, probably, fifty years ago, because Siaes Corner is many times richer and more colorful than Shark Reef. Lots of sharks, schools of fish and stunning colors.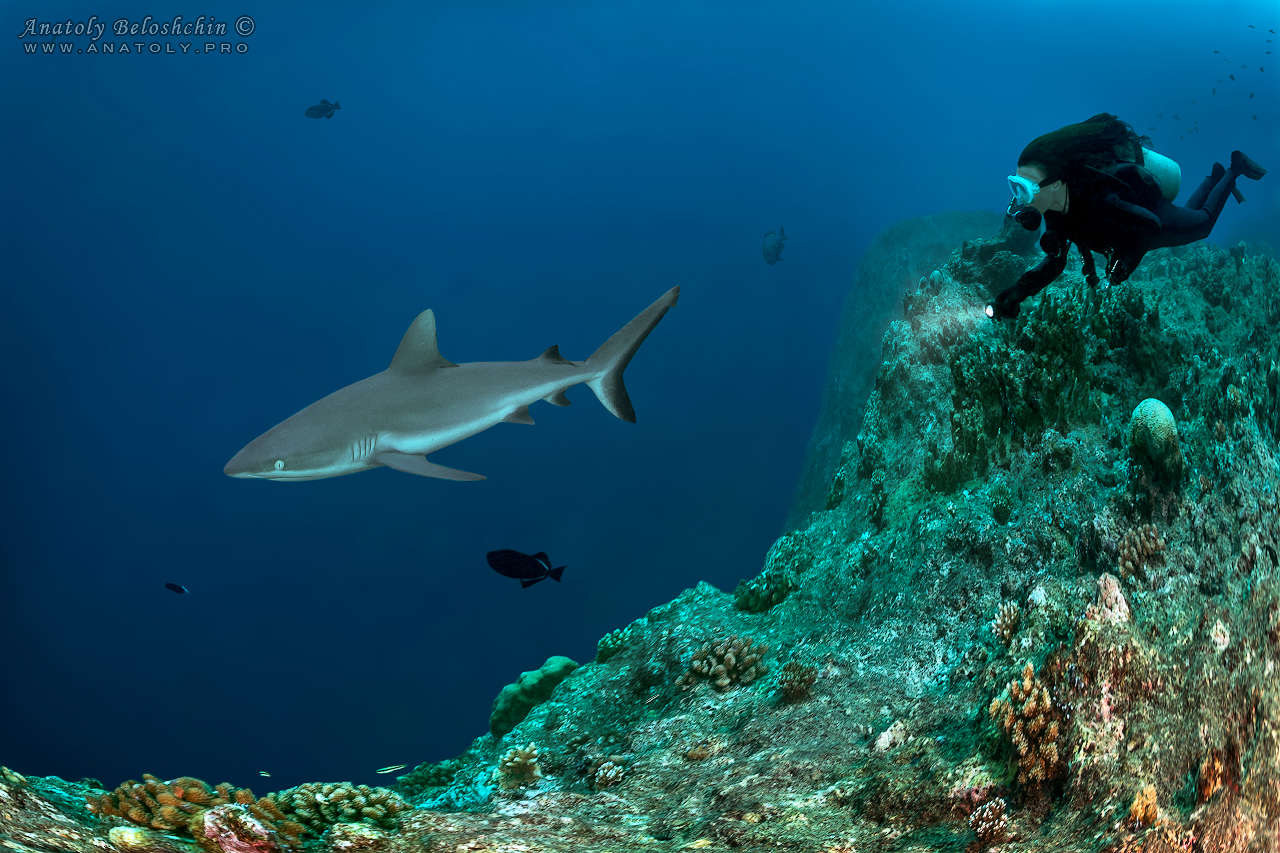 GERMAN CHANNEL PALAU
For our third dive day, we had planned to dive German Channel and Blue Corner - as it seems one of the most famous dive sites in Palau. German Channel is a very peaceful place. Like in a Disney cartoon. Shoals of small fish, manta rays, barracudas. And think of it - more than 100 years ago the Germans made this artificial channel by dynamiting it to optimize their shipping route to Koror, and today nature has taken back the channel and created a rich ecosystem with a stunning display of marine life.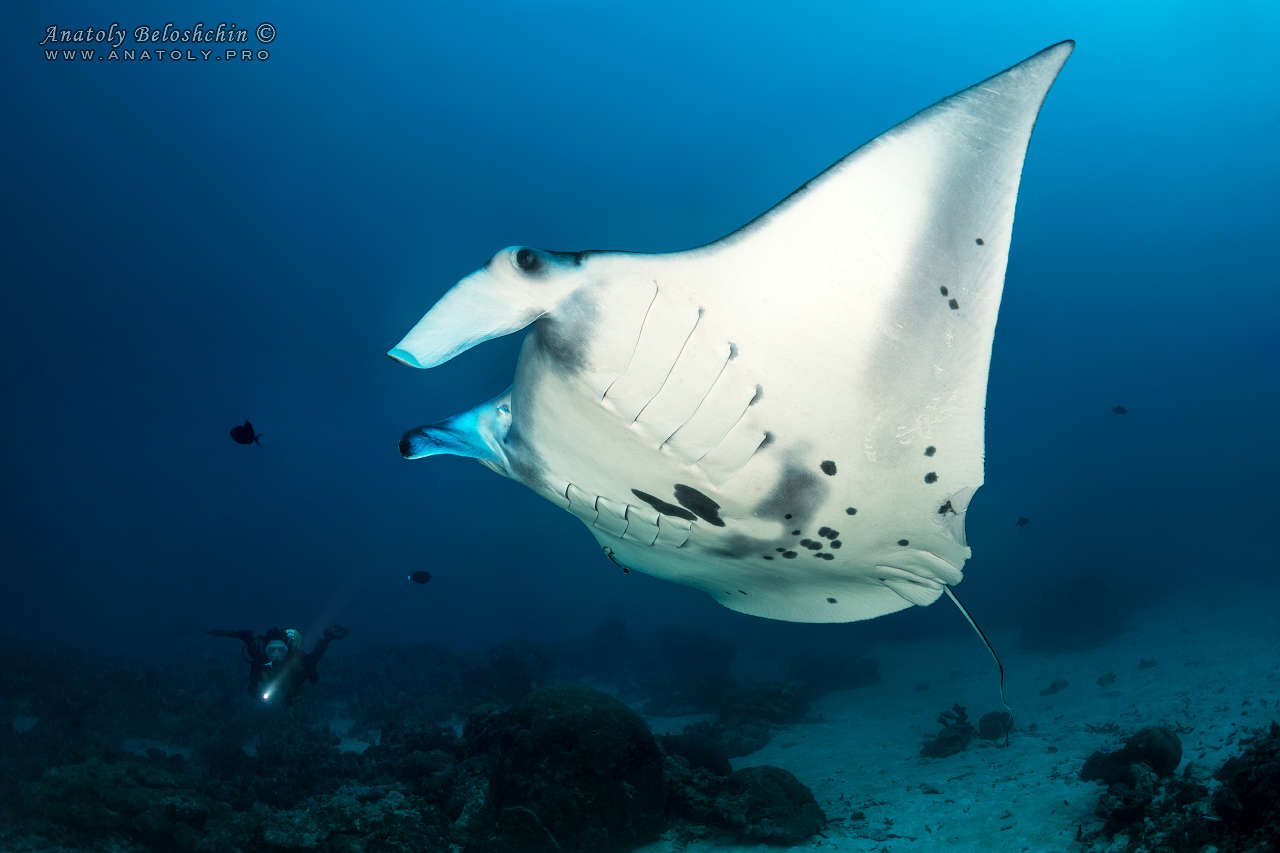 BLUE CORNER PALAU
Blue Corner reminded me of the Maldives in their most extreme form. In the Maldives, on an incoming current, you dive deeper to the very edge of the "Kandu", about thirty meters, then you need to literally squeeze into the reef so that the current will not carry you away. Squeeze in, don't move and watch the sharks.
In Palau, it's almost the same. The difference is that sharks are coming very close - you can almost touch them, and the depth is only ten to fifteen meters. The current was so strong that divers were using reef hooks, which they attach to dead corals to stay in place. Without Reef Hook, no chance, especially with a bulky camera in hand. They are calling these hooks "Palau Hooks".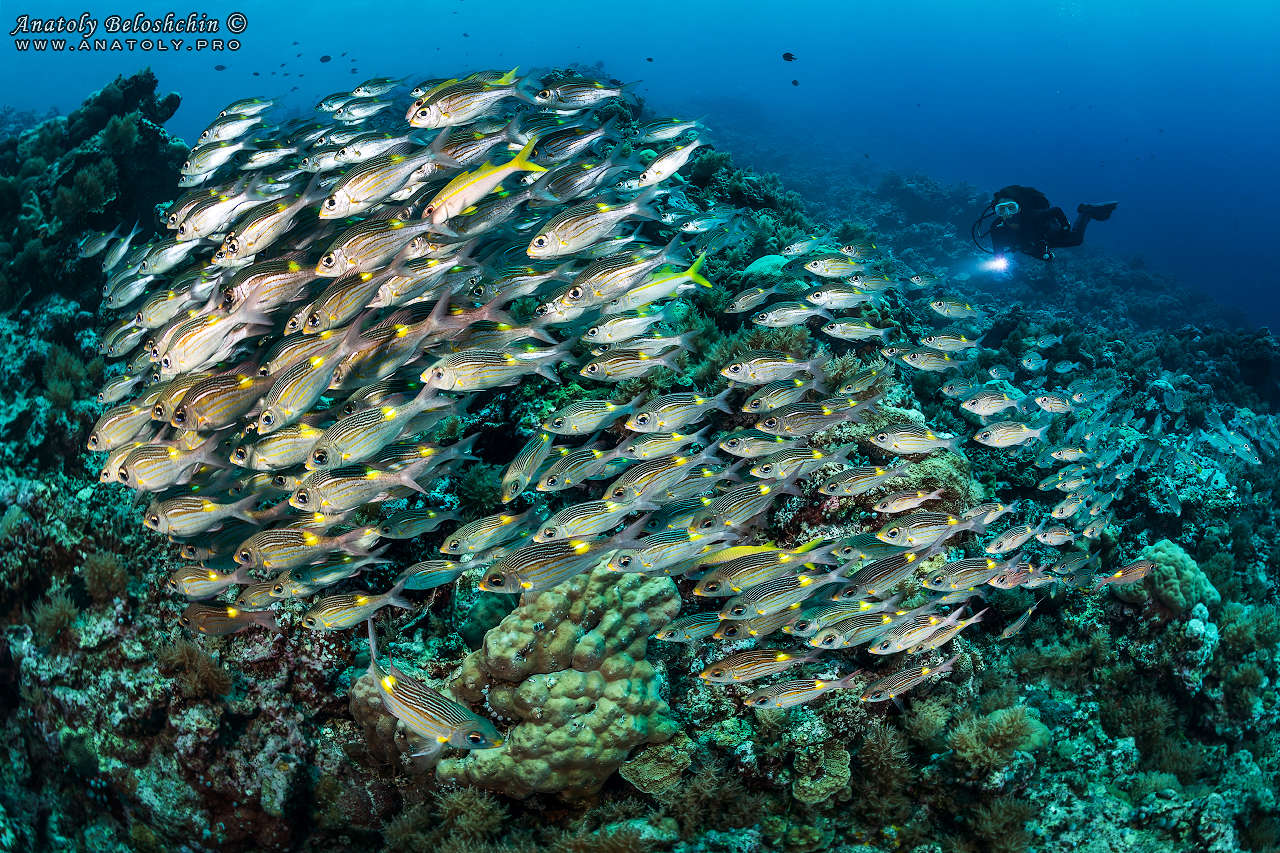 NIGHT & MACRO DIVING IN PALAU
Toward evening, we went for a night dive and I tried to take macro shots. Finally, I was able to use my macro lens and port. You can, of course, have your macro lens and port set up during the day too, but it would be a waste - better stick with your wide-angle for all the big fish: -0
For a night dive, they are recommending their house reef right at the dive center. But my Macro shooting did not go as planned. I wanted to shoot "the kiss" of the Mandarin fish - I found some and they were mating - but my position wasn't right … - so no photos of the kiss.
Due to battles in WWII, there are many wrecks in Palau, including two planes. The depths can be chosen, from fifteen to a hundred meter, or even deeper. Wrecks are a great background for shooting. Wreck, model, corals, and fish - everything needed for great wreck photos.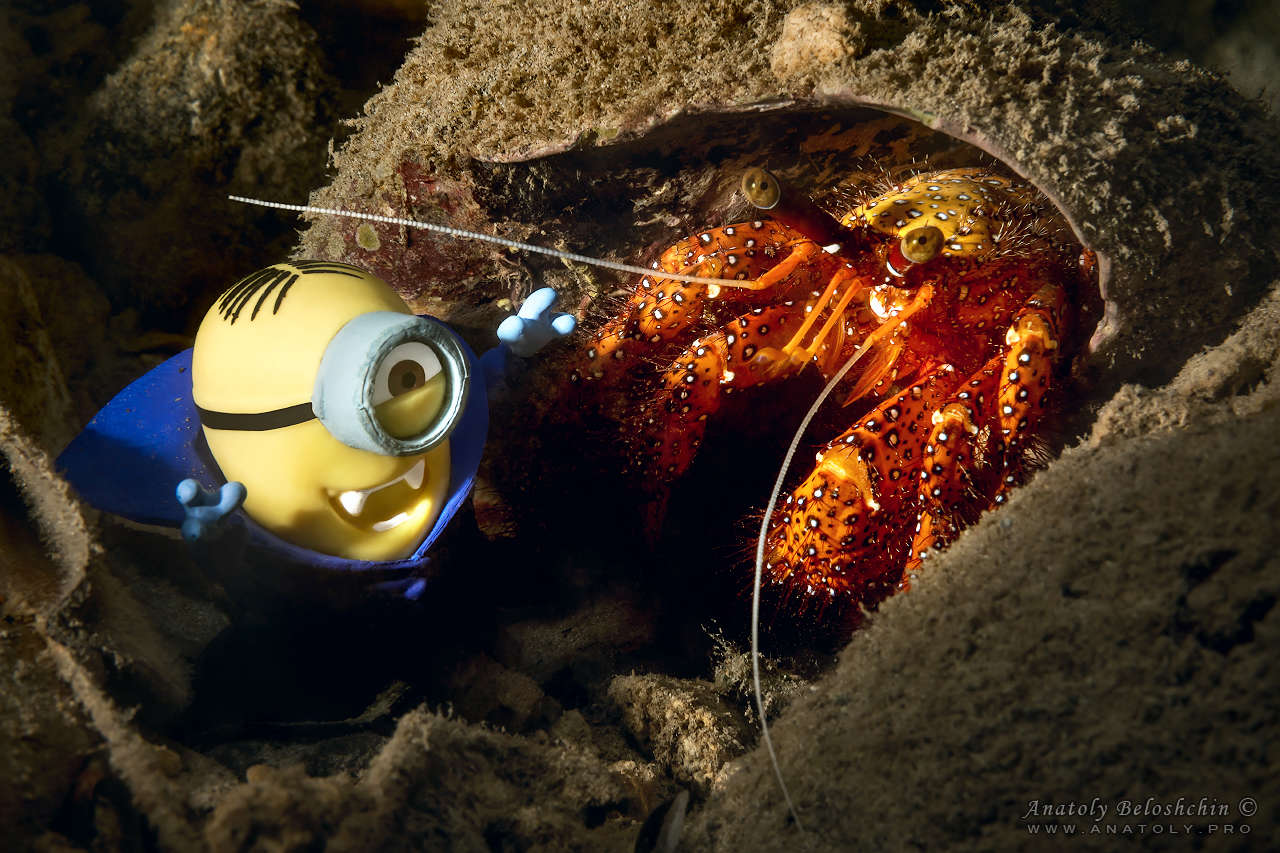 GENERAL INFORMATION FOR YOUR PALAU DIVE VACATION
Fish ′ n Fins is very well organized. All dives are made from speedboats. If you go on their liveaboard, you will also dive from a speedboat, similar to liveaboards in the Maldives - there they call them "Dhoni".
The procedure begins with filling out forms in the diving center. Then - the payment of the Koror State environmental fee, which is, in fact, your ticket to all the Koror State dive sites.
There are two fees - one is the Koror State Rock Island Fee, which costs $53.00, and is valid for all the dive sites in Koror State for the duration of 10 days. And the second fee is the Koror State Rock Island & Jellyfish Lake Fee - this one costs $105.00, is valid for 10 days and includes all the dive Sites of Koror State plus the famous Jellyfish Lake.
Every morning your Fish 'n Fins guide will ask you if you have your Koror State Permit on you - if not, back to your hotel to get it - even though we see park rangers, we have never experienced an inspection of our permits.
Around eight in the morning, the diving center will send a minivan to the hotel to pick up its guests. From some hotels though Fish ′n Fins boat picks up guests directly from the resort's dock.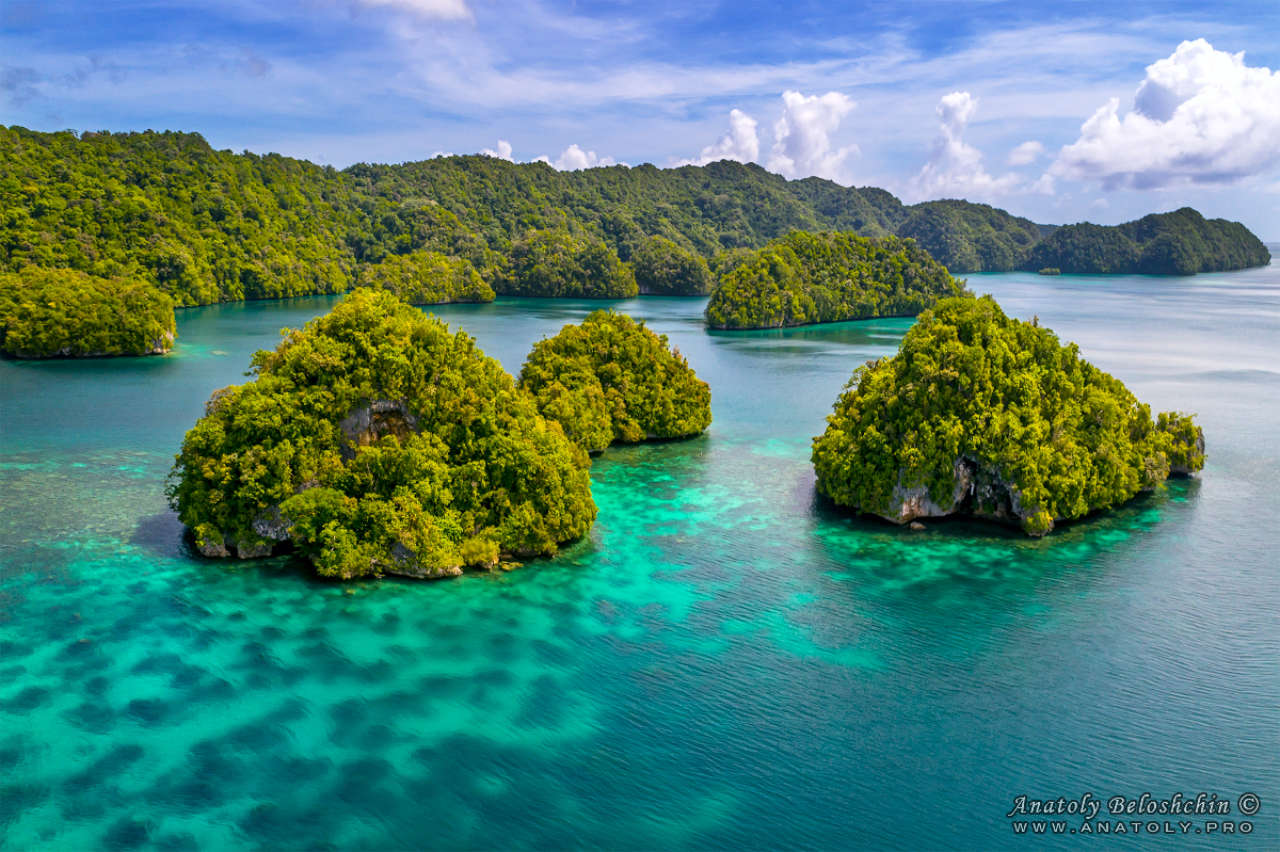 In the late afternoon, Fish 'n Fins transport all guests back to their hotels by minivan. Transfers are very fast as there isn't much traffic on the islands.
The Info Board at the diving center shows who is diving on which boat the next day. You can also make arrangements for special dives such as spawning dives or trips to Peleliu Island. You'll also have to decide what you'd like to have for lunch the next day - Fish 'n Fins offers a menu with chicken, fish, pork, and vegetarian - all in two versions - fried or grilled. On top of that burgers, sandwiches and vegetarian dishes, rice and salad. Lunch is prepared at the shop's own restaurant - Barracuda Bar & Restaurant - packed in individual containers your meal is waiting for you after the first dive. It was delicious! If a beach is close to the dive site they will bring you there for lunch.

Upon returning to the diving center, the guides remove all equipment from the boats and immediately rinse it in special large tanks. There are separate tanks for wetsuits, regulators, and photo equipment. A very efficient system, there was not a single mistake in ten days. Respect!
If you decide to dive Palau you have generally two options - hotel-based or liveaboard. Both are having their advantages - what to choose is up to you. Fish 'n Fins offers both alternatives.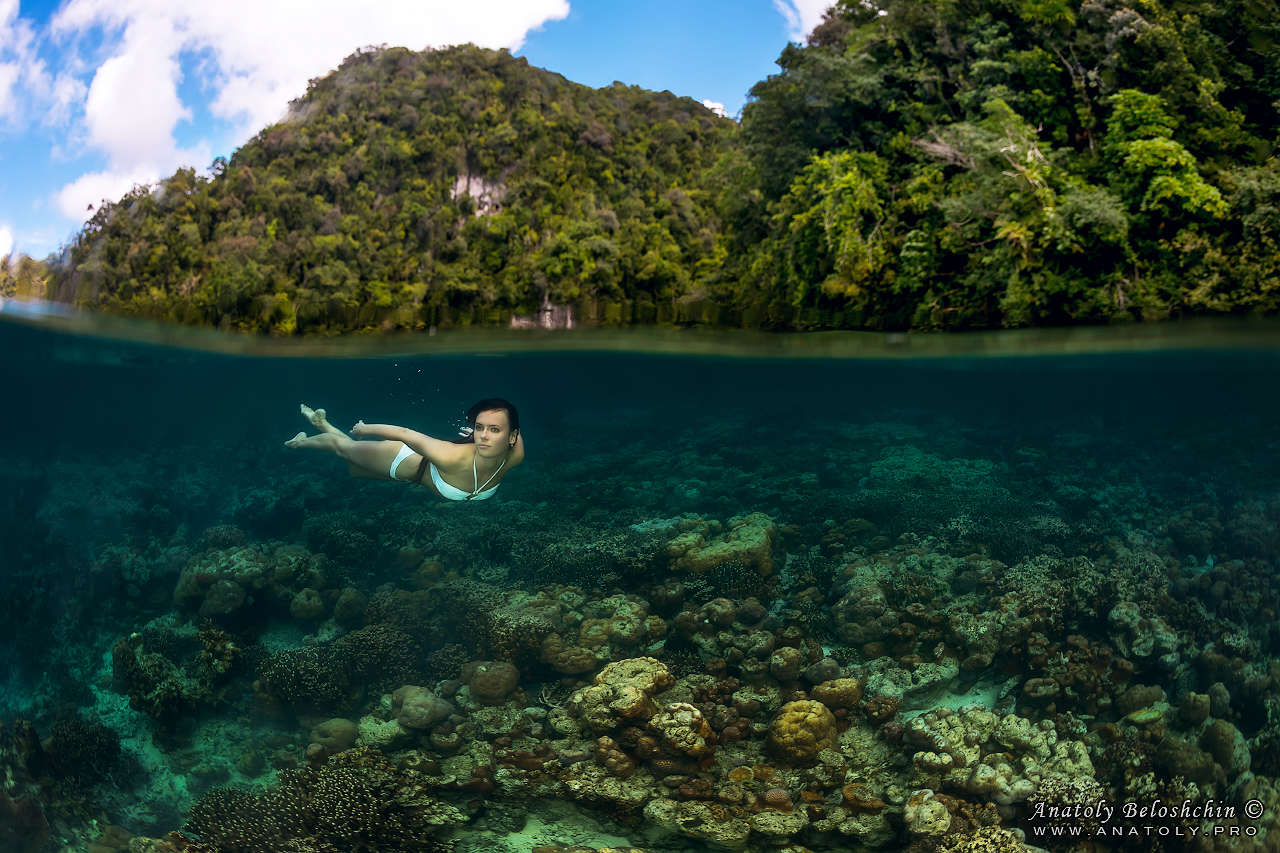 HOTELS & RESORTS IN PALAU
There are high-end, mid-range and budget hotels available. The advantages of high-end resorts are obvious. Hotels and Resorts are generally cheaper than liveaboards and you can go out for dinner and visit bars and shops. To get a better impression of hotel standards we stayed in 2 hotels - our first choice was the mid-range Palasia Hotel, located in the center of Koror. This hotel is very convenient when it comes to spending your evenings in town, the service is very good, no complaints at all!
The second hotel we tried was the Palau Pacific Resort, which belongs to a Japanese Hotel group - it is considered to be Palau's premium resort. We enjoyed the high standard of this magnificent resort, its exquisite cuisine, and the long white sand beach. The rooms have Japanese toilets - high-end technology - for a long time we tried to find who is smarter - I, Tanya or the toilet - we concluded after some time that we homo sapiens are loosing to the intelligence of a Japanese toilet in regards to hygiene ;-) - we found it reassuring that if ever there were a rebellion of the machines, it would least not be initiated by a Japanese high-tech toilet.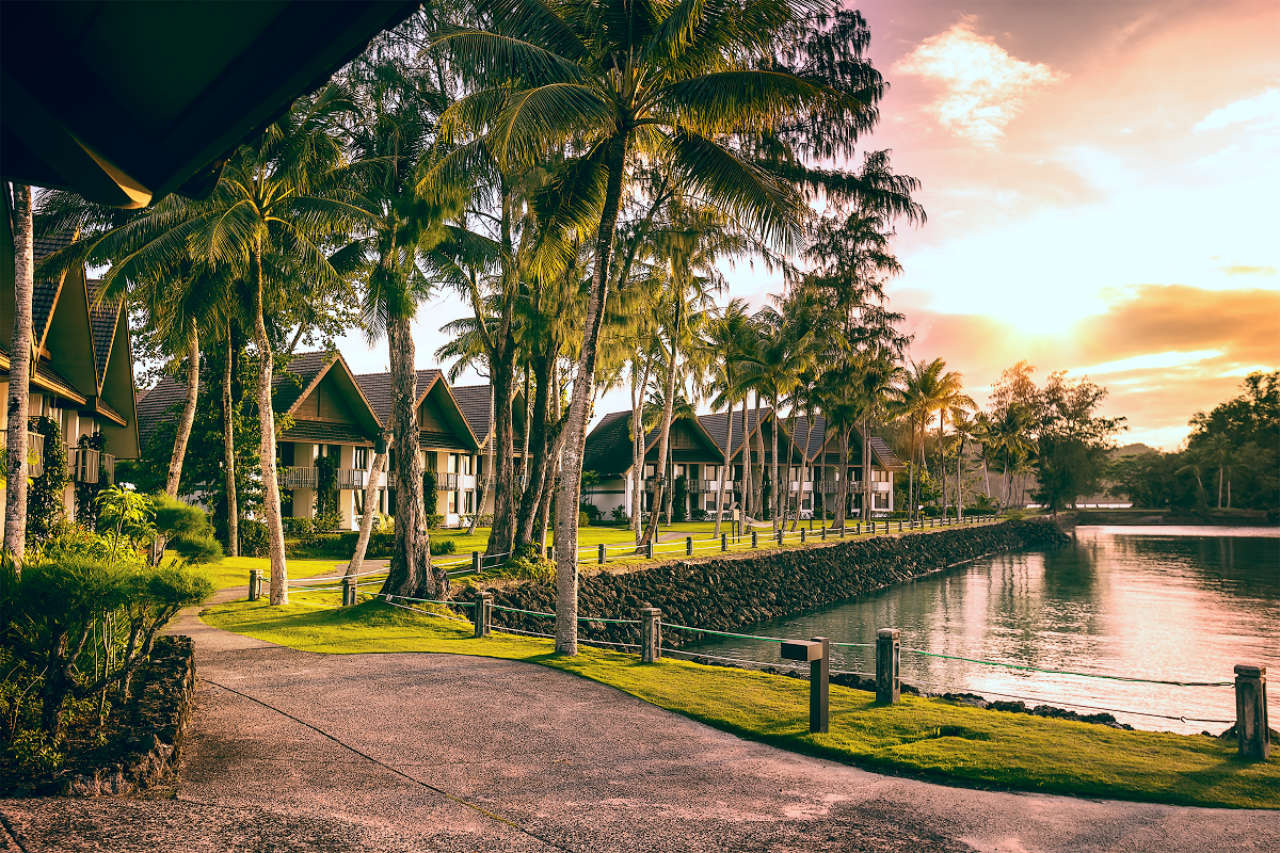 JELLYFISH LAKE PALAU & ROCK ISLANDS
Although Palau is a small country there are lots of high-end attractions as for example the world-renowned Jellyfish Lake - one of 52 Palauan saltwater lakes, located in the Rock Islands, and filled with millions of non-stinging jellyfish.
Before we went to Palau we had heard that there were no jellyfish in the lake, due to rising water temperatures in the lake. When we were finally in Palau we learned that it was open again and more than 1 million of the yellow jellies were in the lake.
So - snorkel - flippers & mask and in we go :-) - the jellies are not stinging and you can move between them even without a wetsuit.
Other activities Fish 'n Fins is offering are Off-Road Jungle Tours, Kayaking and Skydiving.
This is what we managed to try.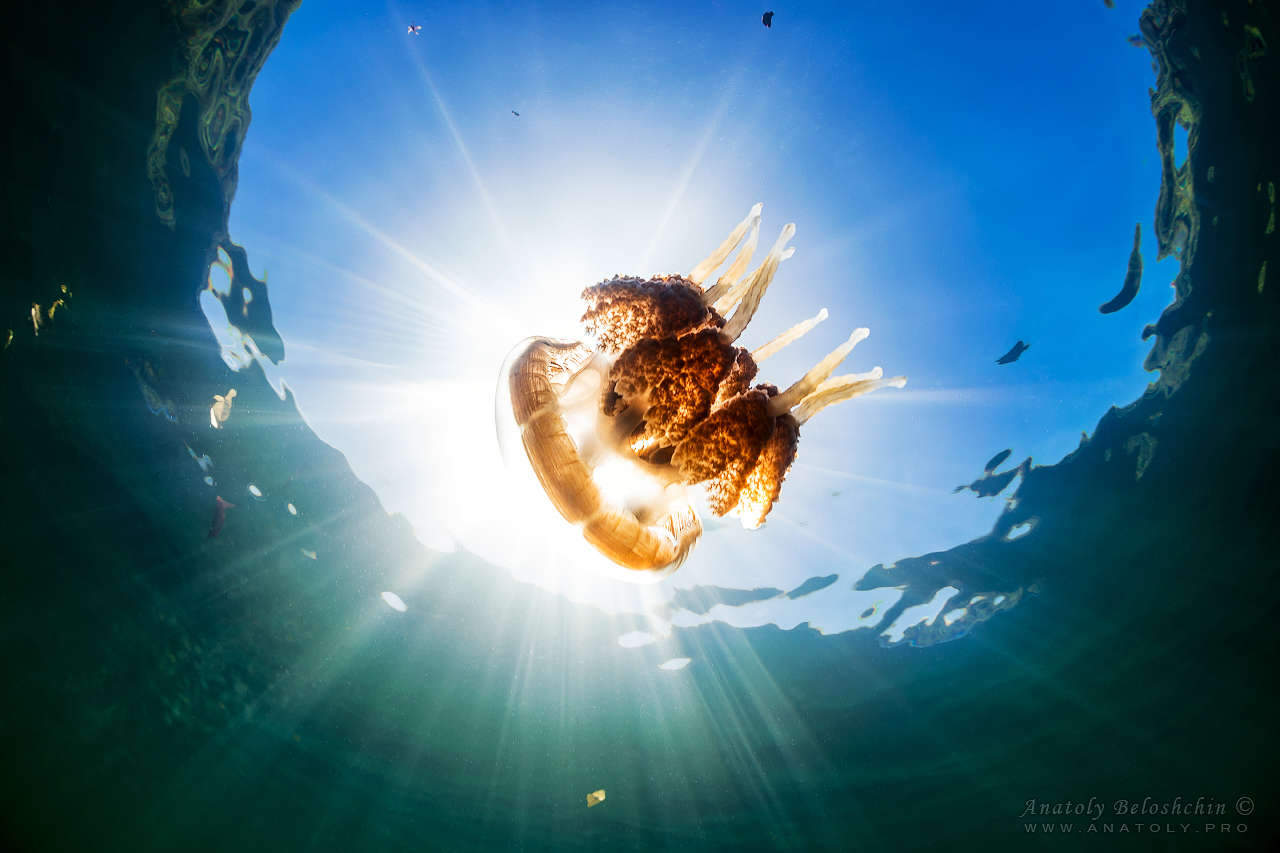 OFF-ROAD JUNGLE TOURS PALAU
We drove with 4x4 ATVs to remote parts of the island and tried to get stuck in the mud on more than one occasion - but we did not succeed - but you can imagine how we looked (liked like) full of dirt all over - however, it's sooo much fun.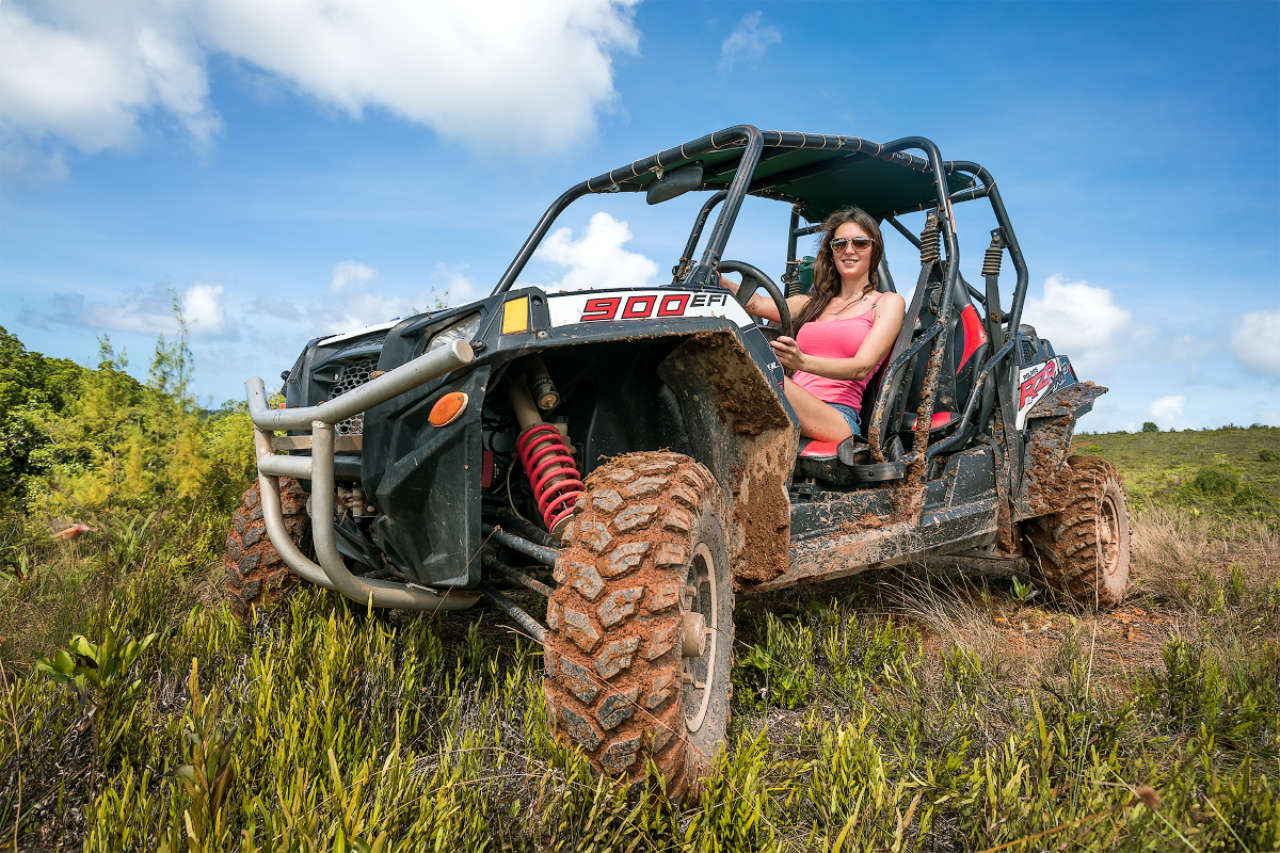 KAYAKING PALAU - A GREAT OPPORTUNITY FOR SPLIT PHOTOS
Kayaking is a great thing to do - you are paddling through the Rock Islands on an unsinkable plastic kayak - my editor in Moscow had to persuade me to try kayaking, as I did not want to. I am happy I gave in - kayaking turned out to be so nice that I tried to find some time to repeat it. If only the trip would have been a few days longer - we'd have done it again. It's so nice to glide silently through the water between the cliffs and the lush green of the Rock Islands. We were just afraid of getting sunburnt, even having applied the most powerful sunscreen the pharmacy had to offer - Palau is very close to the equator it's easily possible. But there is more than enough shadow under trees and overhangs.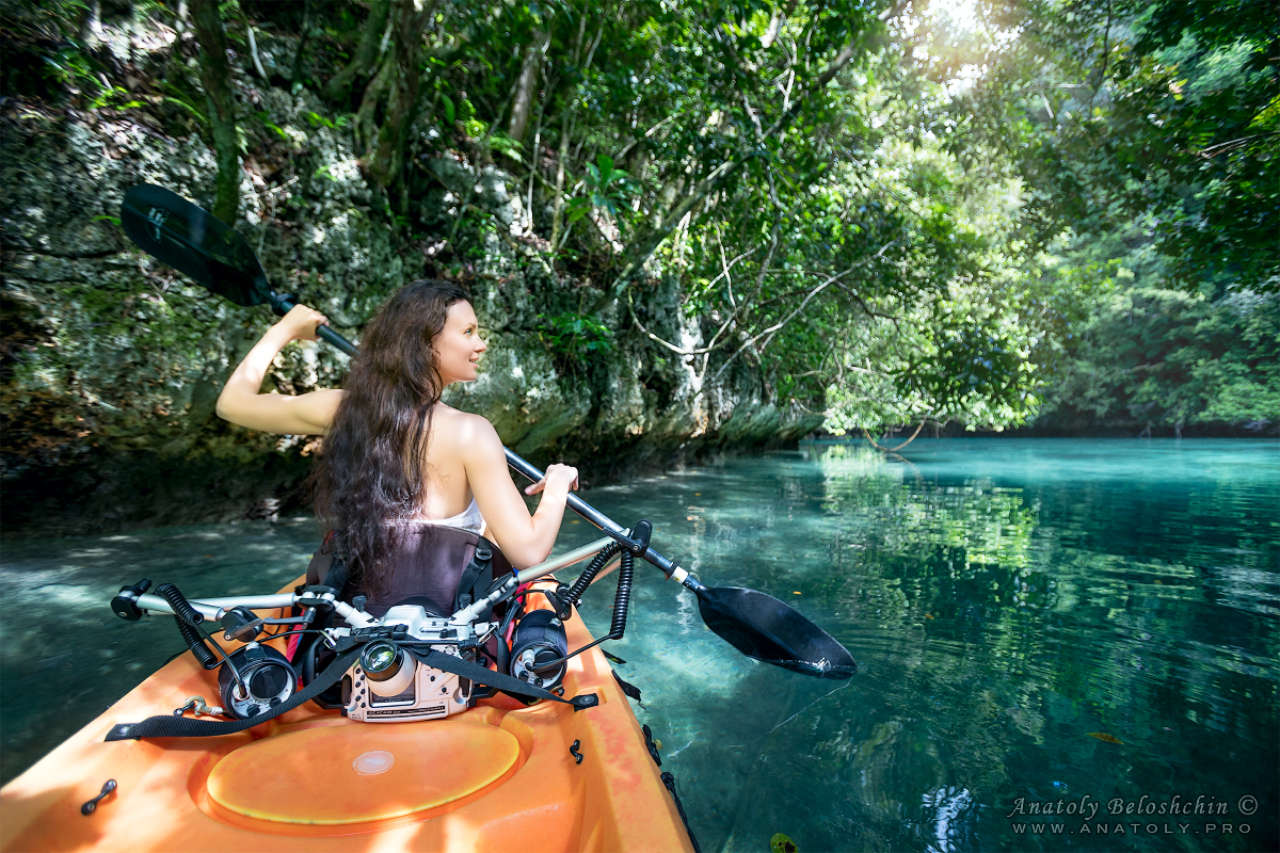 If you get tired from paddling, take a couple of minutes, jump in the water and go snorkeling - I was happy the Fish 'n Fins guide had recommended I take my underwater camera with me. There are trees rooting under the water - it's ideal for split shots - I loved shooting there! We were so fascinated, we spent an hour or more in the water.
The opportunity to organize such tours easily is in my book another argument for a land-based stay in Palau.
If I dive for example the Maldive - I will go on a liveaboard - but Palau also has so many things to offer on land - however - different people have different taste …
CONCLUSION OF OUR TRIP TO PALAU
To conclude my article I would like to quote my wife, who said: As a rule, at some point from any of our trips, I want to go home. Tolya, I don't want to go home for the first time!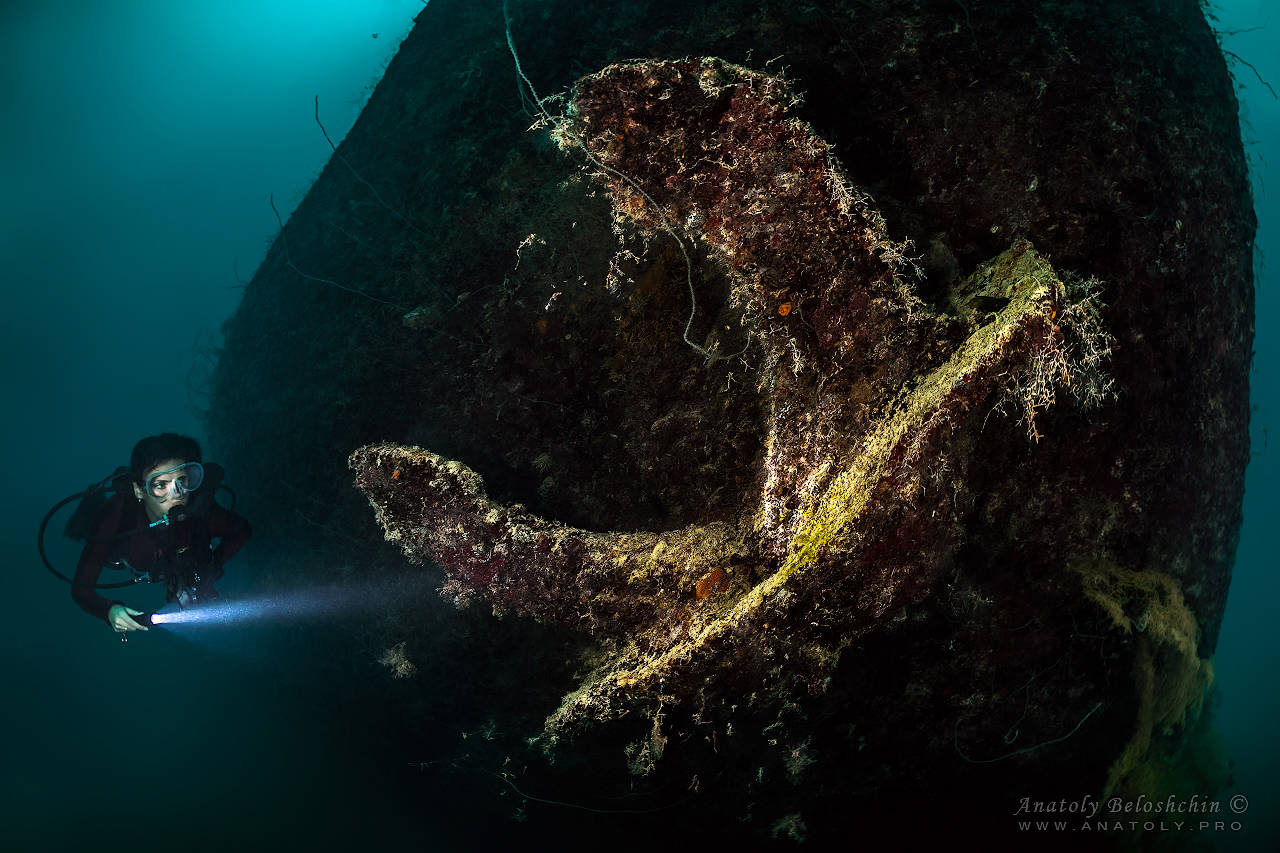 BOOK A TRIP TO PALAU
If you are planning on visiting this pristine paradise have a look at Fish 'n Fins Best Price Dive Packages - we are sure, you'll find the right dive vacation package for your dream trip to pristine Palau