Nikko Bay, nestled in the heart of the UNESCO World Heritage Site, is home to some of the most diverse and exquisite coral reefs in the world. And there's no better way to experience this natural wonderland than by kayaking with Fish 'n Fins.
Kayaking through Nikko Bay is a sensory experience that will transport you to a world of tranquility and wonder. Surrounded by limestone walls that rise up like cathedrals, the bay has been protected from the ravages of surf, surge, and storm damage for centuries. And the result is a cornucopia of colorful marine life that is simply breathtaking.
As you slip into the calm waters of the bay, you'll see an abundance of delicate and colorful corals lighting up the shallows with their fluorescent glow. The experience is like no other, as you become part of the aquatic world around you. The corals seem to dance with the gentle motion of your kayak, and the colors seem to take on a life of their own.
But Nikko Bay isn't just about the corals. As you paddle further into the bay, you'll encounter an equally diverse assemblage of trees, ferns, and fragrant flowers.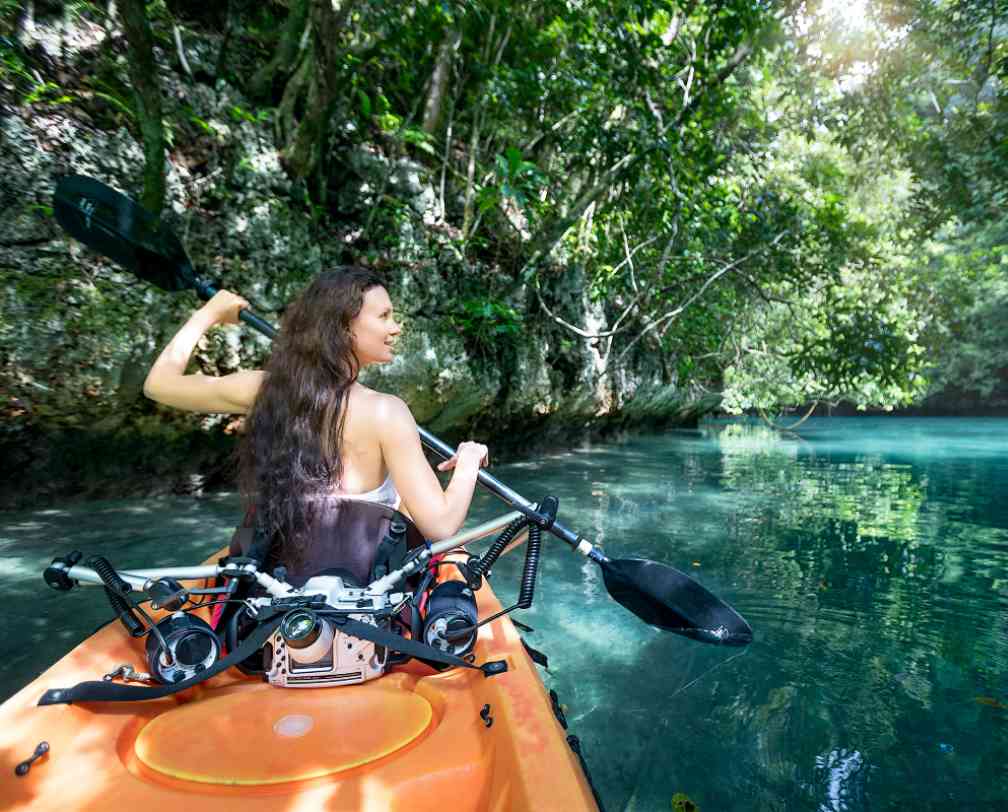 Kayaking through Nikko Bay with Fish 'n Fins is not just about experiencing the natural beauty of the area. It's also an opportunity to learn about the history that surrounds this breathtaking location. The bay was a significant battleground during World War II, and it still hides the remnants of bunkers and encampments. With the help of our guide, you'll be transported back in time, and history will come alive in the shadows of this epic Pacific Theater battleground.
At Fish 'n Fins, we take care of everything for you. We meet around 8:00, and your Fish 'n Fins guide will either bring you by car to the ramp in Ngermid or by boat through the Rock Islands. Either way, you'll start an enchanting kayaking tour through the Rock Islands. Our guide will bring water and your bento lunch, so all you have to worry about is immersing yourself in the beauty of Nikko Bay.
As you paddle through the bay, you'll encounter a range of marine caves, tunnels, and archways that create a paddler's delight. The calm waters of the bay ensure that you can paddle under any climatic conditions. Kayaking through Nikko Bay is an experience that is both tranquil and exhilarating. It's an opportunity to escape the chaos of the world and immerse yourself in the natural beauty of a place that is truly extraordinary. And with Fish 'n Fins as your guide, you'll have an experience that is not just unforgettable but also informative and safe.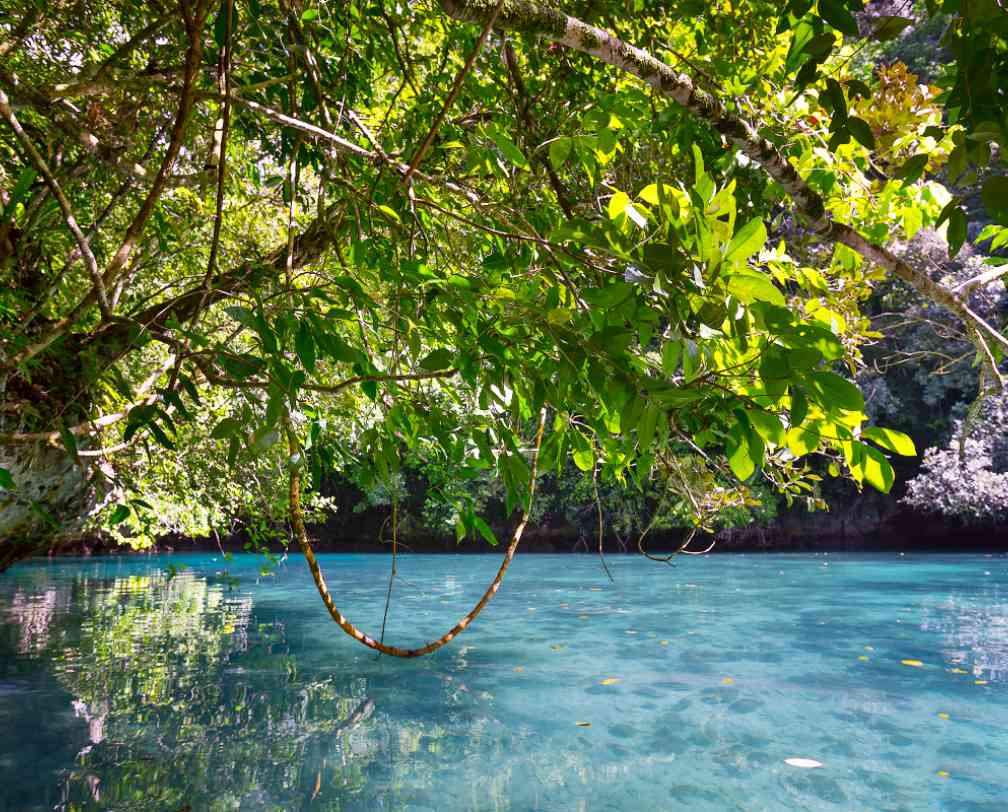 Kayak Tour through Nikko Bay
Nikko Bay's diverse coral reefs and lush forests provide the perfect setting for an unforgettable kayaking experience with Fish 'n Fins.
Kayaking through Nikko Bay with Fish 'n Fins is a tranquil and exhilarating experience. It offers a chance to explore diverse coral reefs, lush forests, and WWII history.
Kayaking • Departure 8:00 AM • Minimum Participants 4 • $137.50/person/tour
MUST HAVE: Towel • Sun Protection • Koror State Permit • Snorkeling Gear
Book Your Kayak Adventure