Are you ready for the adventure of a lifetime? If you're looking for a tour that combines culture, adventure, and culinary joy, then the Indiana Jones Tour in Palau is perfect for you!
Fish 'n Fins Palau offers the most exciting and breathtaking tour that you will ever experience. This tour takes you on an adventure through the Rock Islands and the beautiful waters surrounding Palau, where you will explore limestone caves, mangroves, and Yapese stone money quarries.
Starting early in the morning, you'll meet your guide at the Fish 'n Fins dive shop, where you'll have the chance to grab a quick breakfast and a nice Lavazza espresso at the Barracuda Restaurant. Then, you'll set sail to Airai, a Palauan state north of Koror, where you'll be greeted by the breathtaking scenery of Nikko Bay and the Rock Islands.
Your captain will lead you on an incredibly beautiful route before arriving at a small yellow hut, which marks the entrance to a Yapese Stone money quarry. There, you will be introduced to your tour guide for the day, who will take you on a journey through the rainforest.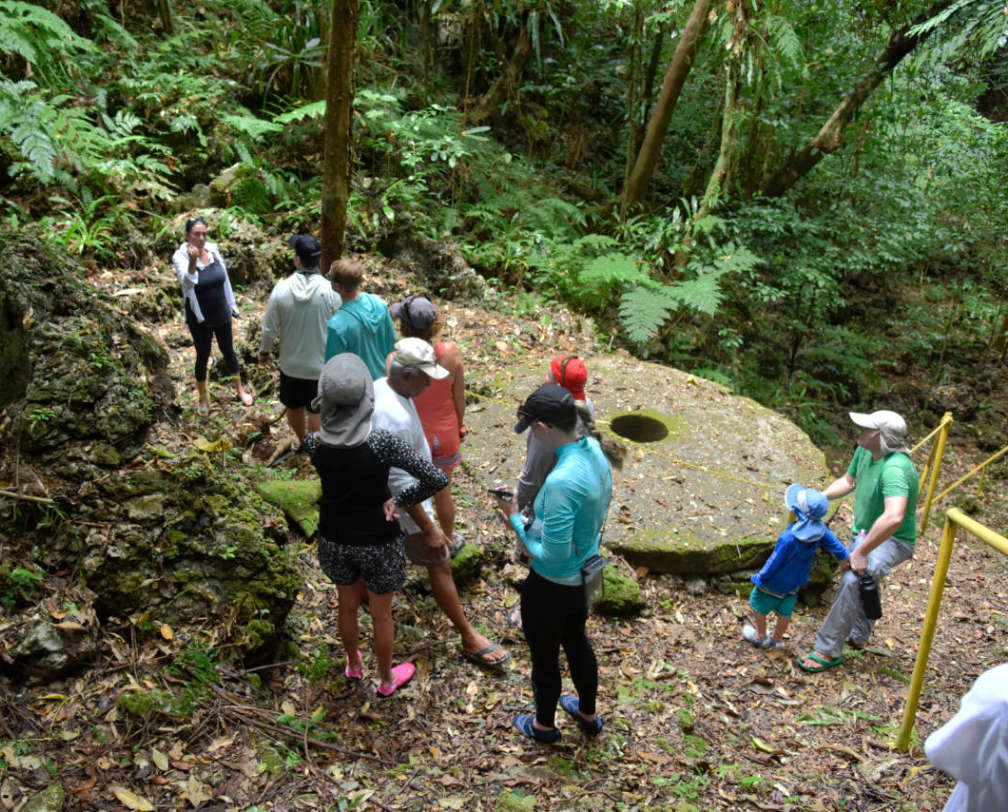 As you walk through the rainforest, you'll be amazed by the huge trees, ferns, palm trees, and lush foliage that surrounds you. All our guides are amazing tour guides, who know Palau, nature, and culture like no other. They'll tell you stories about palm trees, crabs, nuts, and of course Yapese stone money, which was mined in Palau and transported to Yap, where it is still used today as a means of payment.
Don't forget to bring a flashlight, as there are some caves in the forest that are better explored with a lamp. You'll be amazed by the beauty of these caves, which are like something out of an Indiana Jones movie.
After your hike through the rainforest, it's time to head back to the water. Your kayak will be waiting for you, our staff have already lowered them into the water. You'll get comfortable in your kayak, and our guide will lead you along the Rock Island limestone formations, which are even more impressive from the kayak than from the day boat.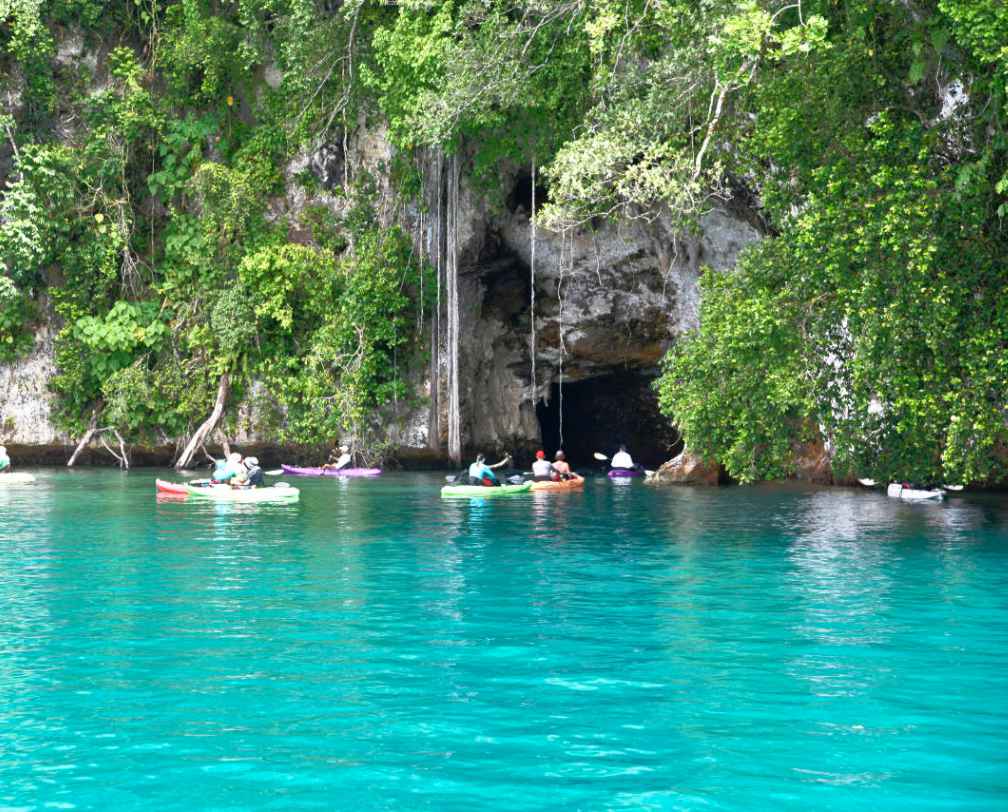 Then, your guide will take you into the first cave, and from there you'll silently glide through some other caves with stalactites on the way to a picturesque mangrove channel. This channel will lead you to a beautiful little bay, where you'll leave your kayaks and visit another cave on foot before heading to the nearby "Lee Marvin Beach."
"Lee Marvin Beach" takes its name from the actor who shot "Hell in the Pacific" here in 1968. This beautiful beach is where you'll find the next part of your adventure - a delicious Bento Lunch prepared by our Barracuda Restaurant chefs. Cold beer, soft drinks and refreshing cocktails will beavailable (additional charge), too, so you can relax and enjoy the culinary specialties while taking in the tropical view.
After lunch, you'll have some time to relax on the beach, take selfies with a tropical background, build sandcastles, and enjoy another beer. You can process your impressions, and soak up the sun before your next adventure.
Your final stop for the day is the Mandarin Fish Lake, which is only a few minutes away by speedboat from "Lee Marvin Beach" on the way back to Fish 'n Fins. The Mandarin Fish Lake consists of two shallow bays, in which you can watch mandarin fish in the shade of the Rock Islands even during the day.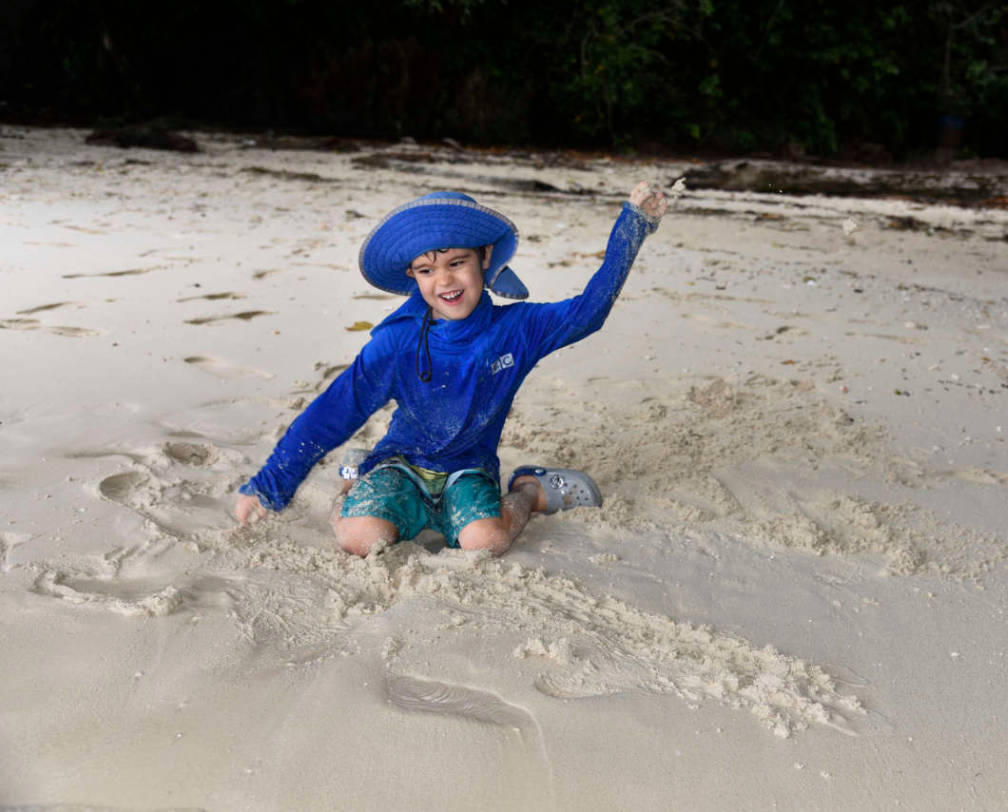 Indiana Jones Culture & Adventure Tour
After an incredible day of adventure, culture, and culinary delights, you'll return to Fish 'n Fins with unforgettable memories and new friendships made. The Indiana Jones Tour truly exceeds all expectations, and you'll be able to say without hesitation that it was the most exciting and memorable tour you have experienced in Palau.
If you're looking for an adventure that combines culture, history, and outdoor activities, the Indiana Jones Tour is the perfect option for you. Fish 'n Fins offers this tour to anyone looking to explore the beauty of Palau's Rock Islands and learn more about its fascinating culture and history.
Don't miss the chance to kayak through mangroves and limestone caves, visit a Yapese stone money quarry, relax and BBQ on the beach, and snorkel in Mandarin Fish Lake. And most importantly, don't forget to bring your camera to capture the breathtaking views and unforgettable moments.
Fish 'n Fins takes pride in offering an unforgettable experience to all its guests, and the Indiana Jones Tour is no exception. The tour is led by experienced guides who are knowledgeable about the history and culture of Palau, and they will make sure that your experience is both enjoyable and educational.
So what are you waiting for? Book your Indiana Jones Tour today and get ready for an adventure of a lifetime!
Kayaking & Culture • Departure 8:00 AM • Minimum Participants 4 • $192.50/person/tour
Book Now