Welcome to Kamikaze Maru, a must-visit wreck dive site in Palau, exclusively brought to you by Fish 'n Fins - Palau's premier dive shop. Located in Urukthapel anchorage, just 10 miles (16 km) or 20 minutes by speedboat from Koror, Kamikaze Maru is a converted Motor Torpedo Boat Tender that was sunk during operation DESECRATE ONE on March 30-31, 1944.
This dive site is only recommended for intermediate to advanced divers with Wreck Diver Certification, as it is not a recreational dive. The Kamikaze Maru sits upright on the bottom at 115 feet (35 m), with her bow pointing towards the northeast. The deck is at 90 feet (30 m), and it is 110 feet (33 m) into the holds. Visibility ranges from 15-45 feet (5-15 m) on a good day, and there is no current.
The ship's general formation includes a length of 370 feet (113 m), a beam of 54 feet (16 m), and a tonnage of 4, 950 tons. Built-in 1937 by Osaka Iron Works, Osaka, Japan, this medium-size freighter was converted to a torpedo transport and repair vessel to service Long Lance Torpedoes. Although the Fujita Salvage Company removed most of the deck structures, the ship still held torpedoes, which prevented it from being completely salvaged.
The Kamikaze Maru is a "dirty wreck" due to the amount of silt that has built up on the wreck, but it has an abundance of fish life, including Rainbow Runners, Sergeant Majors, Moorish idols, occasional barracuda, batfish, etc. The wreck itself has plums of Black Coral, Wire Corals, and other sessile growth covering the remaining structures of the ship.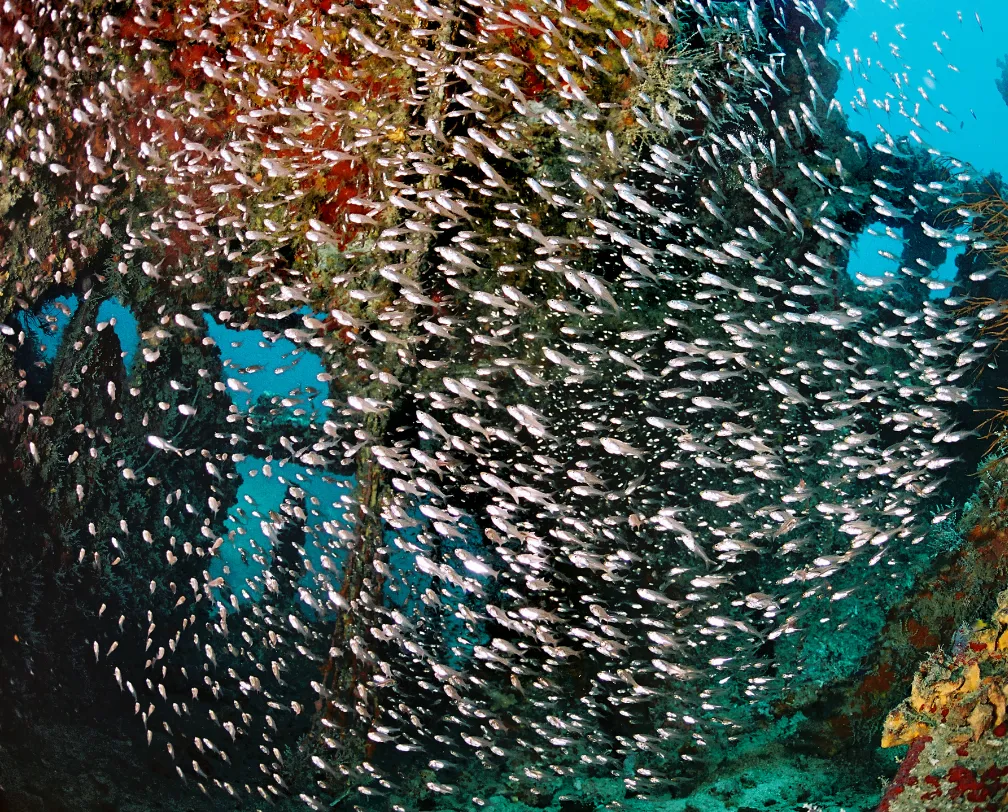 One of the fascinating facts about this wreck is that it was not rediscovered until the 1980s when a private yacht was monitoring out of the harbor, and the sea beneath them came alive with huge bubbles of air rising from below. Klaus Lindemann, a WWII Wreck Expert, identified the source of the explosion to be from the then "lost" Kamikaze Maru.
Important safety notes: This wreck should only be attempted by serious wreck historians due to the potential danger of the torpedoes still onboard and the high-pressure cylinders inside the cargo holds and on deck that can spontaneously explode. Live ammunition can be found on this ship and all other ship and plane wrecks in Palau waters, so it is crucial not to pick up any ammunition due to their instability, as they can explode.
In conclusion, Kamikaze Maru is a fascinating and historical dive site that offers an unforgettable experience for serious wreck divers. Book your dive with Fish 'n Fins, and our experienced team will ensure that you have a safe and enjoyable dive.